Crown gall, caused by the bacterium Agrobacterium tumefaciens, is found worldwide. Crown gall affects both woody and herbaceous plants, attacking several hundred different plants belonging to at least 142 genera within 61 widely separated families.
Crown gall is economically important on only a relatively small number of young, rapidly growing plants. These include almond, apple, apricot, blackberry, cherry, cottonwood, crabapple, euonymus, fig, grape, honeysuckle, nectarine, peach, pecan, pear, plum, prune, poplar, pyracantha, raspberry, rose, sugarbeet, turnip, walnut, and willow.
Plants affected by crown gall often grow poorly because the disease interferes with the normal transport of water and food supplies. Infected plants become stunted, weak, and more susceptible to winter injury. The greatest economic loss, however, is to the nursery grower who must destroy infected plants and carry out stringent sanitary control measures.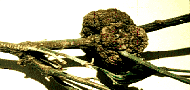 Figure 1. Crown gall of Euonymus. (J. L. Forsberg)