3. Nigrospora ear rot or cob rot is caused by the fungus Nigrospora sphaerica, synonym N. oryzae, teleomorph Khuskia oryzae. The disease is widely distributed, but its prevalence varies greatly from year to year. Affected ears, which are not conspicuous until harvest, are chaffy, weigh less than healthy ears, and have kernels which are loose on the cob. Shanks, bases, and cobs of badly infected ears are often shredded, particularly when the ears are picked mechanically or later when the ears are shelled. In shelling, the cobs break into small pieces. Many diseased ears are knocked to the ground by mechanical pickers. Infected ears show large numbers of speck-sized, jet-black spore masses scattered in the shredded pith of the cob and on the tip ends of the kernels (Figure 5D). Affected kernels are slightly bleached, often with whitish streaks starting at the tips and extending toward the crowns, and may show a gray mycelial growth (Figure 6). Pound for pound, Nigrospora-rotted corn has almost the same nutritive value as healthy corn. Infection usually starts at the butt end of the ear although sometimes at the tip. Damage is most severe when normal plant growth is arrested or plants are killed prematurely by frost, drought, hail, stalk or root rots, leaf blights, insect damage, root injury, or infertile soil.
4. Diplodia ear rot or dry rot, caused by the fungus Diplodia maydis, synonym D. zeae, was formerly a serious ear rot in Illinois, but is uncommon now. The same fungus is commonly associated with stalk rot and may cause a seed rot-seedling blight. The husks of ears which are infected early appear bleached or straw-colored, in contrast to green healthy ears. Infections occurring within 2 weeks after silking cause the entire ear to be gray-brown, shrunken, very lightweight, and completely rotted (Figure 7). Lightweight ears stand upright, with the inner husks stuck tightly together and to the ear by white mycelial growth. Ears infected later in the season usually show no external evidence of disease. When the husks are opened a white mold is seen growing between the kernels. All or part of an ear may be rotted. In still later infections, the white mold may or may not be visible between the rows of kernels. Ears sometimes appear healthy until after shelling, when the brown germs and dead kernels become evident. Infection usually begins either at the base of the ear progressing toward the tip or at an exposed ear tip, but can also advance from the stalk through the shank and into the ear.
Speck-sized, black fruiting bodies (pycnidia) of the Diplodia fungus are often found scattered on the husks and sides of the kernels (Figures 8 and 5B) as well as the floral bracts and cob tissues. The pycnidia are filled with thousands of microscopic spores that may be carried considerable distances by the wind to initiate new infections. Rotted ears have both reduced nutritive value and reduced palatability to hogs. Dry weather early in the season followed by abnormally wet weather just before and after silking favors ear infection. Ears are most susceptible from silking to about three weeks later. Hybrids with poor husk coverage or thin pericarps are often very susceptible. Some isolates of Diplodia maydis may induce vivipary (premature germination of kernels on the ear).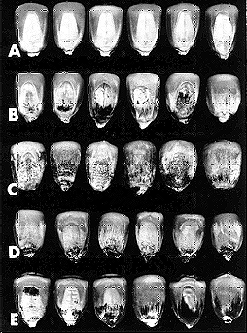 Figure 5.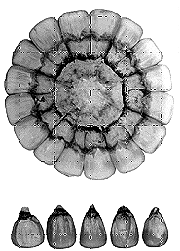 Figure 6. Nigrospora ear rot. Note black dots at ends of kernels and in cross section of the ear. Whitish streaks on kernels are due to air channels in the pericarp. Similar streaking occurs in kernels infected with Fusarium moniliforme and Cephalosporium acremonium.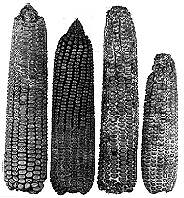 Figure 7. Diplodia ear rot. Lightweight mumified ear at right resulted from an early infection. The other ears were infected later.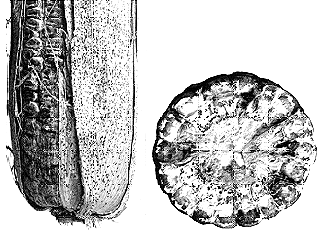 Figure 8.