Peas are susceptible to two similar wilt diseases caused by Fusarium oxysporum f. sp. pisi; true wilt and near wilt. True wilt or Fusarium wilt is caused by Race 1 of the fungus while near wilt is caused by several races. Currently, 10 races of the near wilt fungus have been reported, designated Races 2 ato 11. Race 2 predominates in Illinois. Wilt-affected plants are more difficult to pull from the soil than those damaged or killed by root rots (see Report on Plant Diseases No. 911). If wilt-infected plants are not examined until wilt symptoms have been apparent for several days, root-rotting fungi in the soil may have so damaged the roots that it is almost impossible to identify the organism responsible. Both wilt diseases occur worldwide wherever peas are grown more or less continuously. Near wilt is more common than true wilt because many more pea varieties are available which are resistant to true wilt.
Back to Top

SYMPTOMS
Fusarium or True Wilt. Plants may become infected at any stage of growth. The first symptoms are usually a yellowing of the lower leaves and a stunting or dwarfing of plant growth (Figure 1). The stipules and margins of the leaflets curl downward and inward. The stems at or near the soil line may be slightly thickened and brittle. A cross section of the lower stem often reveals a lemon to orange-brown and finally black discoloration of the water-conducting tissue (xylem) within the stem. Affected plants may wilt and die either slowly or rapidly soon after the first symptoms are noted due to destruction of the feeder roots. Affected plants die more rapidly in very dry than in moist soils. If infection occurs when the plants are fairly young, they often wither and die without producing any pods. If they are larger when infected, a few flattened and poorly filled pods may form. The disease occurs in circular to oval areas in the field. If the soil is not uniformly infested, the symptoms appear on isolated plants scattered throughout a field. If susceptible pea varieties are planted several years in succession in the same field or garden area, the infested areas gradually enlarge, become more numerous, and later merge with others. Finally, all of the soil in the field or garden may become infested.
Near wilt. Like true wilt, plants may become infected at any stage of growth. Seedlings may emerge, collapse, and die (damp-off). When slightly older plants are affected, a black canker develops on the stem close to where the seed is attached. The canker enlarges both upward and downward. Finally, the entire outer part (cortex) of the tap root may be affected. Aboveground symptoms are quite similar to those for Fusarium wilt. However, plants affected with near wilt die more slowly, and the water-conducting tissues in some plants are orange to bright brick red. The discoloration may run up the entire plant. Near wilt affects pea varieties that are resistant to wilt and is more apt to kill plants later in the season, sometimes after the crop is nearly mature. For this reason the loss from near wilt is less than that from Fusarium wilt. Near wilt may be readily overlooked because the pale, greenish yellow, stunted appearance of the plants may be attributed to root rot, lack of soil fertility, or another cause. Near wilt is not usually found in circular spots in a field as is true wilt; only scattered plants are usually affected.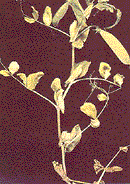 Figure 1. Fusarium wilt.