Address any questions or comments regarding this newsletter to the individual authors listed after each article or to its editors, Nathan Johanning, 618-687-1727, njohann@illinois.edu or Bronwyn Aly 618-382-2662, baly@illinois.edu. The Illinois Fruit and Vegetable News is available on the web at: http://ipm.illinois.edu/ifvn/. To receive email notification of new postings of this newsletter, contact Nathan Johanning at the phone number or email address above.
If you receive this newsletter by US Mail, this is the next-to-last issue of the 2015 subscription year. A subscription form for 2016 is included at the end of this issue. Please be sure to re-subscribe if you want to continue to receive printed copies of the newsletter by US Mail. Email notifications will be continued without any need for additional subscription renewal. If you are reading this issue online and would like to receive printed copies by US Mail, please download the PDF or email Rick Weinzierl at weinzier@illinois.edu to request a subscription form.
---
In This Issue:
Upcoming Programs (listings for beginning and established growers)
News and Updates (FSMA survey, Illinois Specialty Crops, Agritourism, and Organic Conference)
Regional Reports (southern Illinois)
Fruit and Vegetable Production and Pest Management (Battling Perennial Weeds, New herbicide technology approved for use in soybeans)
University of Illinois Extension educators and specialists in fruit and vegetable production and pest management
---
Check the Illinois SARE calendar for a full list of programs and links for registration.
http://illinoissare.org/ and http://illinoissare.org/calendar.php
Also see the University of Illinois Extension Local Food Systems and Small Farms Team's website at:
http://web.extension.illinois.edu/smallfarm/ and the calendar of events at http://web.extension.illinois.edu/units/calendar.cfm?UnitID=629.   
Local Foods for Institutional Buyers, November 30, 2016 at the Champaign County Farm Bureau at 801 N. Country Fair Drive, Champaign, IL.  The agenda and more information can be found at:  http://housing.illinois.edu/dining/about-dining/local-foods .  Registration can be completed at:  http://go.illinois.edu/Local_Producers The Local Foods for Institutional Buyers is to introduce producers, processors, distributors, educators and institutions. The symposium will address navigating the state procurement system by addressing the why, the what, and the how for local producers, local processors and the institutional buyer.
QuickBooks™ for Farmers, Three session program December, 1, 6, & 8 6:00 p.m. to 8:00 p.m. SIU Ag Building Room 214, Carbondale, IL. Topics that will be covered include the basics of setting up asset, cash, and liability accounts, as well as making entries for cash accounts and customizing reports. The course will be taught by Dr. Jeb Asirvatham, Assistant Professor for SIU Ag Business Education Department and Ruth Hambleton, Farm Management Instructor. $50.00 per farm registration fee collected at the door.  To register visit www.tinyurl.com/SIUQuickBooks or call Jackson County Farm Bureau at (618) 684-3129.
Great Lakes Fruit, Vegetable, and Farm Market Expo, December 6-8, 2016, Grand Rapids, MI  On-line registration is now open.  For more information visit http://www.glexpo.com/ or contact Maureen Kelley, EXPO Registration Manager, Association Management Resources (AMR) 1390 Eisenhower, Ann Arbor, MI 48108 call 734-239-8027 or email mkelley@glexpo.com  The North American Berry Conference of the North American Strawberry Growers Association and North American Raspberry & Blackberry Association is being held in conjunction with the Great Lakes EXPO as one of the pre-conference events. Workshops and educational sessions for strawberry and caneberry growers, along with the NASGA and NARBA annual meetings will be held on Monday, Dec. 5 in advance of the Great Lakes EXPO. Additional berry sessions are available as part of the EXPO on Tuesday, Dec. 6.  NABC schedule can be found at http://www.glexpo.com/about-the-expo/pre-conference-events#berry
Disease Management in Organic Crops, December 14, 2016, Webinar, Noon to 1 PM (Central time).  Local Foods/Small Farms Extension Educators, Laurie George and James Theuri, will discuss some cultural and non-chemical options organic growers have for foliar and soil-borne disease management.  There is no cost to attend the program, but pre-registration is required by December 12, 2016 to receive webinar access information. Call 815/933-8337 to register at the Extension office or register by using the following link:  https://web.extension.illinois.edu/registration/?RegistrationID=15495
2017 Illiana Vegetable Growers Symposium, Tuesday, January 5, 8:00 a.m. – 4:00 p.m. CST,  Teibel's Restaurant, Schererville, IN. The program is packed full of useful information for vegetable growers. See the complete program and registration form at http://tinyurl.com/ivgs2017.  Advance registration is $30 per person. To register, visit www.edustore.purdue.edu and look for the 'Workshops' button on the left of the page. Online registration is due by noon Dec. 22. To register by mail, send a completed registration form with payment postmarked by Dec. 16. On-site registrations will be accepted at $35 per person, but the famous Teibel's fried chicken luncheon cannot be guaranteed. For more information, contact Nikky Witkowski at Purdue Extension-Lake County: (219) 755-3240 or nikky@purdue.edu.
Illinois Specialty Crops, Agritourism, and Organics Conference, January 11-13, 2017. 
More specific conference information is listed below.
Market Manager Certificate Program
LOCATION: University of Illinois Extension Office 4618 Broadway Mt. Vernon, Illinois 62864
IN-PERSON SESSIONS: February 10, 11, and March 7, 2017
WEBINARS: February 13, 15, 17, 20, 22, 27, March 1, 2017
This is a voluntary program that was created to encourage farmers market managers to pursue leadership skills and professional development on topics essential to market management. Hosted by the Michigan Farmers Market Association and the Illinois Farmers Market Association.  Additional information and registration can be found at: http://mifma.org/mmcp/
Ohio State University 2016 Direct Marketing Webinar Series. Noon (Eastern time). Take this opportunity to learn more about marketing issues. Recordings of all webinars can be found at www.go.osu.edu/DirectMarketingWebinars. Links below are for recording for previous webinars and connection links for future sessions.
Save the Date for the following Winter Programs

January 26, 2017.  Horseradish Growers Convention, Madison-Monroe-St Clair Extension Branch Office, Collinsville, IL
February 7, 2017.  Southern Illinois Commercial Tree Fruit School, Mt. Vernon, IL.
February 8, 2017.  Southwest Illinois Commercial Tree Fruit School, Hardin, IL.
February 13, 2017.  Stateline Fruit and Vegetable Conference, Rockford, IL
February 15, 2017.  Gateway Small Fruit and Vegetable Conference, Regency Conference Center O'Fallon, IL
February 24-25, 2017.  Illinois Grape Growers and Vintners Association Winter Wine Festival and Annual Conference Crowne Plaza Springfield, IL
---
North Central Region Food Safety Modernization Act Survey
>The North Central Regional Center for FSMA Training, Extension and Technical Assistance (NCR FSMA), wants to know your needs in order to help you comply with the Produce Safety Rules.
For fresh produce growers who will be required to comply with FSMA Produce Safety Rules, we are asking you to complete two short surveys at different times. This, the first survey, consists of very general information and will be completed by growers before November 30, 2016. It will take about 15 minutes to complete.
Your inputs are needed to develop useful and relevant materials for producers like you! So far we only have 13 responses from Illinois Growers!
We recognize your time is valuable so as a token of appreciation, we will hold drawings after each survey round and award to three participants a $50 gift card. Note entry in the drawing will require that you provide your name and contact information. There will be an optional link at the end of the survey for you to enter your information.  It is NOT tied to your responses.  The North Central Regional Center for FSMA Training, Extension and Technical Assistance (NCR FSMA), wants to know your needs in order to help you comply with the Produce Safety Rules.
To access the survey: http://qeasttrial.co1.qualtrics.com/SE/?SID=SV_8FWKOX9AYADrWqF 
Questions can be directed to Angela Shaw (angelaml@iastate.edu)
Mary Hosier, Project Manager, NCR FSMA Training Center (217-333-7512; mhosier@illinois.edu)
Illinois Specialty Crops, Agritourism, and Organics Conference
The Illinois Specialty Crops, Agritourism, and Organic Conference (ISCAOC) will be held January 11-13, 2017, at the Crowne Plaza Hotel in Springfield. The conference, which features nearly 100 speakers and 60 trade show exhibitors, will again host four concurrent pre-conference workshops, general sessions, and breakout sessions aimed at helping Illinois specialty growers cultivate their operations.
Wednesday, January 11, participants may attend one of the pre-conference workshops, including Cover Crops, Nutrient Management and Soil Health, Digital Marketing Strategies for Your Farm, Growing and Marketing Tomatoes and Peppers, and Designing and Operating Irrigation Systems for Illinois Vegetable and Fruit Crops.
A special opportunity for farmers is also scheduled for Wednesday, January 11. The ISCAOC is hosting the North Central Region Sustainable Agriculture Research and Education (NCR-SARE) Farmers Forum program. This traveling annual event gives farmers, ranchers, and others funded by NCR-SARE grants the chance to share information about their sustainable agriculture research, demonstration, and education projects. The projects highlighted in these presentations and the Farmers Forum are funded by grants from North Central Region-Sustainable Agriculture Research and Education (NCR- SARE), a USDA-funded program that supports and promotes sustainable farming and ranching by offering competitive grants and educational opportunities.
Thursday, January 12, the convention's keynote speaker, Adam Nielsen, Illinois Farm Bureau's Director of National Legislation, will provide insight into the challenges agriculture is faced with in developing national agricultural policies under a new administration.
Participants also are invited to attend breakout sessions on Thursday, January 12 and Friday, January 13 featuring:
Agritourism and Marketing
Fruits
Vegetables
Herbs
Organic Foods
Emerging Issues and Opportunities
Following Thursday's breakout sessions, the annual banquet will include a keynote speech titled, "Why Your Story Matters," by Chris and Audra Wyant, Finding Eminence Farm, Lexington, Illinois. They have a growing number of readers following their weekly blog, and will cover how sharing their story helps drive business to their farm.
The 28th annual Apple Cider Contest and 15th annual Hard Cider Contest will again be held in conjunction with the conference, with winners being announced during Thursday evening's banquet.
To receive registration materials or to obtain exhibitor information, please contact Charlene Blary at 309-557-2107 or  cblary@ilfb.org . For the first time, conference registration will be offered online. A detailed conference agenda, registration, and cider contest information can be viewed at www.specialtygrowers.org
A block of rooms has been reserved at the Crowne Plaza Hotel at a rate of $96 per night. Please call the hotel directly at 217-529-7777 and ask for the Illinois Specialty Crops, Agritourism and Organic Conference room block to make reservations at the conference rate.
---
From southern Illinois ... Despite the calendar indicating mid-November, it certainly does not feel like it.  Overall, our temperatures have been above average with many days of highs in the 60s & 70s, even 80s on occasion.  These unseasonably warm conditions have been very beneficial to fall crop growth.  Some growers even sighting some of their highest quality harvest on some of these late plantings that have taken advantage of this weather.  In addition to warm, we have also been rather dry with variable precipitation amounts from a few recent fronts, but overall soil moisture is probably dryer than we have been in many months.   Despite the warm, our growing season "officially" ended over this past weekend with a wide spread frost/freeze occurring.  We did have some patchy frost late last week prior to the weekend.  The coldest I personally have observed was 31˚ but I have heard some reports of upper 20s a few mornings as well.  The forecast has our warm spell coming to an end over the weekend with highs in the 40s & 50s and lows in the upper 20s to 30s then and into the start of next week.
Up until the frost and freeze, most crops had continued to grow quite well.  Late plantings of green beans, summer squash, and peppers were just a few summer crops that were doing especially well, maybe even the best of the season thus far.  For some of our Farmer's Markets that go into November the spread of vegetables available was quite amazing for the time of year.  In the orchard, fall harvest is done and thoughts are looking towards fall orchard clean up, and getting equipment ready for winter. 
Don't forget to winterize any sprayers, making sure you don't have water hung up in them as the temperatures start to drop.  It's amazing (or more appropriately depressing) the damage that a little water can cause if caught in the wrong place.  Remember to take off and drain any in-line screens as they can often act as a little catch basin for just enough water to freeze, (crack them) and cause you some pain and annoyance in the spring (spoken from experience).  It's a nice time to clean out those screens and the nozzle screens (boom sprayers).  Additionally, checking antifreeze levels in any water-cooled engines on tractors, mowers, etc. is also important.
With the warm weather, we have seen an extended pest season as well with many of our insect pests still around and causing problems.  Our caterpillar pests on our cole crops are still an issue and in our demonstration high tunnel at my office we have recently encountered an influx of aphids on broccoli.  Generally our temperatures have greatly reduced many of the pest levels by this time of year, but on our high tunnel crops, we have had to open and vent the tunnels more than usual, giving more opportunities to introduce pests as well.  As always refer to the Midwest Vegetable Production Guide for details on recommended products. 
Nathan Johanning (618-687-1727; njohann@illinois.edu)

Strawberry plasticulture planting with ryegrass
in middles and deer fence in place. Photo by Brownyn Aly.
Also from southern Illinois ... In far southeastern Illinois, we finally had our first killing frost over this past weekend.  This frost put an end to my straw bale tomato and pepper crop that had resurged during this warm, fall weather.  In contrast to our above average wet summer, this fall has also turned quite dry, with a slight chance of rain predicted for Friday.  This warm fall weather had me a bit concerned about the amount of growth put on by plasticulture strawberry plants, but in talking with a couple of growers, the number of branch crowns are right on target.  The amount of foliar growth doesn't seem to be excessive, but looks to be healthy and sizing well.  It is always encouraging to see dark green leaves the size of your hand.  Also, observed during this fall growing time, is the number of runners that have "pegged" or started a new daughter plant under the plastic mulch.  The amount of runners set this season appears to be more than normal, as well as the amount of pegging under the plastic.    
For southern Illinois, the target planting date for strawberry plasticulture plug plants is September 10th-15th with the hopes of having enough time to develop 3-5 branch crowns before the plants go dormant.  Although this has been a dry fall, growers are reminded to scout their strawberry fields for signs of disease or insect pests.  Fungicide or insecticide sprays may be needed before row covers are applied for the winter, see the 2016 Midwest Fruit Pest Management Guide.  Depending on the season, row covers for southern Illinois farmers are generally applied sometime between Thanksgiving and the middle of December.  Also, prior to applying row cover for the winter, growers that have seeded the row middles with annual rye grass will want to make sure that the grass has been mowed, as it will want to keep growing under the protection of the cover.  Growers should not forget to scout for vole activity.  The warm, cozy habitat formed under the row cover is just too inviting, and vole damage has typically been a problem for strawberry plasticulture growers.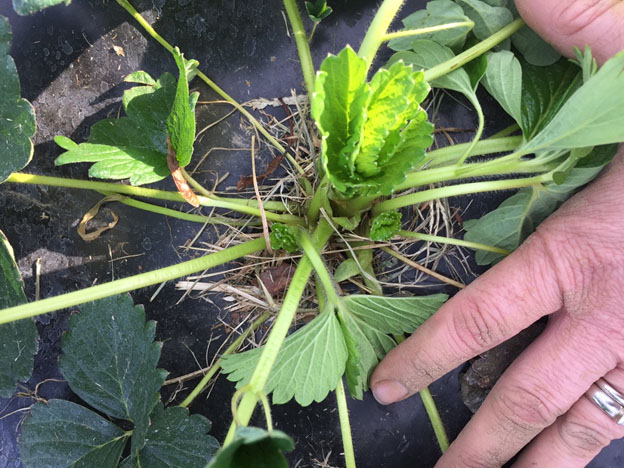 This photo shows the development of two branch crowns around the mother plant. We expect the strawberry plants to develop another 3-5 branch crowns in the spring. Photo by Bronwyn Aly.
Bronwyn Aly (618-382-2662; baly@illinois.edu)
---
Time to Battle Perennial Weeds
This has been a good fall for getting a handle on some of those pesky perennial weed problems.  Most of our perennial weeds are storing up reserves in their roots to overwinter and get them started again next spring.  This also means that it is an ideal time to use some of our systemic herbicides such as glyphosate (Roundup) or 2,4-D as they can be very effectively transported down to the roots this time of year.  Some of the most common weeds that growers are trying to tackle now are Johnsongrass, thistles, nightshade, horsenettle, dandelion, dock, and maybe even volunteer horseradish for my friends in the St. Louis Metro East.  Glyphosate is good on the grasses, but for many of the broadleaves listed a combination of glyphosate with 2,4-D would give more effective control down to the roots of those perennials.   For many I know 2,4-D is not something that we ever speak of in good terms on fruit and vegetable farms, but this time of year, with most crops out of the field or dropping leaves and not actively growing, it is one of the safest times to use this herbicide mode of action.  Also, glyphosate alone just doesn't cut it on these most problematic broadleaves.  Targeting fall days that are sunny and with moderate temperatures (around 50˚ +) is still best for active plant uptake, while still being mindful of keeping any drift to a minimum as always.  You still need actively growing leaves so make sure frost hasn't killed the leaves off already. Do make sure to thoroughly clean out any sprayers after applications (hand or tractor sprayers).  Ammonia based tank cleaners and triple rinsing with water is important, not forgetting to flush the boom and any bypasses, screens, etc.  Hopefully this work now will make next season's weed management at least a little easier!
Nathan Johanning (618-687-1727; njohann@illinois.edu)
XtendiMax Herbicide Approved with Restrictions in Soybean
On November 9, 2016, the USEPA approved the use of XtendiMax with VaporGrip Technology, starting in 2017, on Roundup Ready 2 Xtend Soybeans. This is a new formulation of dicamba herbicide that promises to have low volatility. Drift from dicamba herbicides can cause severe damage to sensitive broadleaf crops such as cucurbits, tomatoes, grapes, non-Roundup Ready 2 Extend Soybeans, etc.
XtendiMax has a restrictive label with 110 or 220-foot setbacks for applications (depending on its use rate) with sensitive areas downwind. In addition, there are wind speed and wind direction restrictions as well. Of importance to growers of sensitive crops are the following XtendiMax herbicide label statements:
"Before making an application, the applicator must survey the application site for neighboring non-target susceptible crops."
"The applicator must also consult sensitive crop registries to identify any commercial specialty or certified organic crops that may be located near the application site." In Illinois, that would be DriftWatch Illinois.
"DO NOT APPLY this product when the wind is blowing toward adjacent commercially grown dicamba sensitive crops, including but not limited to, commercially grown tomatoes and other fruiting vegetables (EPA crop group 8), cucurbits (EPA crop group 9), and grapes."
Are all your fields registered on DriftWatch Illinois? Are your neighbors and surrounding commercial applicators aware of your farm and its sensitive crops? If not, it is never too early to build those relationships ahead of the 2017 growing season.
Also, for additional information about this trait technology take a look at this recent Bulletin post Dicamba and Soybean: What to Expect in 2017 by University of Illinois Weed Scientist, Aaron Hager.
Doug Gucker (217-877-6042; dgucker@illinois.edu)
---
Just a few anonymous quotes from www.coolfunnyquotes.com
HMM, this text message is a little too harsh, I'll add LOL at the end.
I made a huge to do list for today.  I just can't figure out who's going to do it.
You can't please everyone, you're not a Nutella jar.
I miss the days when you could just push someone into the swimming pool without worrying about their cell phone.
Dear humans, in case you forgot, I used to be your Internet.  Sincerely, The Library.
They say "don't try this at home" so I'm coming over to your house to try it.
Sure I do marathons.  On Netflix.
Yes, of course I am athletic…I surf the Internet every day.
You know you're an adult when you get excited about a new sponge at the kitchen sink.
Of course I talk to myself, sometimes I need expert advice.
---

University of Illinois Extension Specialists in Fruit and Vegetable Production & Pest Management
Extension Educators – Local Food Systems and Small Farms

Bronwyn Aly, Gallatin, Hamilton, Hardin, Pope, Saline, and White counties

618-382-2662

Stephen Ayers, Champaign, Ford, Iroquois, and Vermilion counties

217-333-7672

Bill Davison, Livingston, McLean, and Woodford counties

309-663-8306

Laurie George, Bond, Clinton, Jefferson, Marion, & Washington counties

618-548-1446

Zackhary Grant, Cook County

708-679-6889

Doug Gucker, DeWitt, Macon, and Piatt counties

217-877-6042

Nathan Johanning, Franklin, Jackson, Perry, Randolph, & Williamson counties

618-687-1727

Andy Larson, Boone, DeKalb, & Ogle counties

815-732-2191

Grant McCarty, Jo Daviess, Stephenson, and Winnebago counties

815-235-4125

David Shiley, Coles, Cumberland, Douglas, Moultrie and Shelby counties

217-543-3755

James Theuri, Grundy, Kankakee, and Will counties

815-933-8337

Jamie Washburn, Effingham, Jasper, Clay, Fayette, Clark, Crawford and Edgar counties

217-374-7773

Extension Educators – Horticulture

Chris Enroth, Henderson, Knox, McDonough, and Warren counties

309-837-3939

Richard Hentschel, DuPage, Kane, and Kendall counties

630-584-6166

Andrew Holsinger, Christian, Jersey, Macoupin, & Montgomery counties

217-532-3941

Elizabeth Wahle, Madison, Monroe, and St Clair, and counties

618-344-4230

Campus-based  Extension Specialists

Mohammad Babadoost, Plant Pathology

217-333-1523

Mosbah Kushad, Fruit & Vegetable Production

217-244-5691