"We are what we repeatedly do. Excellence, then, is not an act, but a habit." --Aristotle
Address any questions or comments regarding this newsletter to the individual authors listed after each article or to its editor, Rick Weinzierl, 217-333-6651, weinzier@illinois.edu. To receive e-mail notification of new postings of this newsletter, call or write the same number or address.
---
In This Issue:
Status of Dixon Springs and St. Charles Centers
Change in newsletter management (Nathan Johanning and Bronwyn Aly will be new editors)
Upcoming Programs (listings for beginning and established growers)
Regional Reports (from southern Illinois)
Fruit Production and Pest Management (codling moth and OFM flight; vole management)
Vegetable Production and Pest Management (corn earworm flight; "good" soil samples)
Local Foods Issues (2016 Small Farms Webinar Series)
University of Illinois Extension educators and specialists in fruit and vegetable production and pest management
---
In September, 2015, agronomy and horticulture staff at University of Illinois Research and Education Centers at Dixon Springs, Brownstown, Dekalb, and St. Charles were given notices of non-reappointment, with notice periods for individual employees ranging from approximately 3 to 12 months (most are 6 months). The reasons given for these actions centered entirely on budget issues and program priorities in the Department of Crop Sciences, not employee performance.  Research and outreach in horticulture and agronomy at these sites is to be discontinued.  Staff who have worked with Illinois fruit and vegetable growers and are impacted by this decision are Jeff Kindhart and Julie Zakes at Dixon Springs and Shelby Henning and Mike Krueger at St. Charles.
Many commercial fruit and vegetable growers have voiced concerns about these decisions, and some are waging efforts to keep horticultural programs at Dixon Springs and St. Charles active into the future under some form of funding from the State of Illinois, the University of Illinois, or in new ways via partnerships with non-profit and for-profit organizations.  I consider the work done at these facilities to have been very valuable to Illinois specialty crop producers, and I think their potential for valuable contributions in the future is great, especially as markets increasingly demand and value locally grown produce.  For those striving to keep these facilities open and productive, I have summarized some history for Dixon Springs at http://ipm.illinois.edu/pdf/DSAC_document.pdf and for the St. Charles Horticulture Research Center at http://ipm.illinois.edu/pdf/St_Charles_document.pdf. 
These facilities will not continue to function as research facilities of the University of Illinois Department of Crop Sciences ... that decision has been made by the department head.  To the best of my understanding, it appears that the only possible ways to keep them functioning are (1) one or more non-profit or for-profit groups act alone or as a coalition to lease one or both of  the facilities from the University of Illinois and obtain grant funds to operate them for public good -- primarily education and research; (2) University of Illinois Extension employs Educators and related staff to operate the facilities for Extension programming -- in better financial times this would be more feasible, but with the inane absence of a state budget 5 months into the fiscal year and threatened cuts to Extension across the board, this will likely require a huge change in any budget drafts put forth to this date; (3) specific legislative funding that can be counted upon over the long term (not just year-to-year); or (4) a private foundation or endowment that generates sufficient funding to provide salaries and operating expenses for each facility. 
If you have opinions on this matter -- for or against the closures of these facilities or solutions that maintain positive programing – the people you should contact are your state representatives and senators and the administrators who have been most involved in these decisions ... Dr. Germán Bollero, Head of the Department of Crop Sciences, at (217) 333-9475  or gbollero@illinois.edu and Dr. Neal Merchen, Associate Dean and Director of the Office of Research, College of Agricultural, Consumer, and Environmental Sciences, at (217) 333-0240 or nmerchen@illinois.edu.  If you think a solution should involve Extension programming, the Associate Dean and Director of Extension is Dr. George Czapar at (217-333-9545 or gfc@illinois.edu.  
Your opinions, voiced clearly and individually, are more important than my arguments on behalf of these programs.  I have been in the middle of this conversation for several weeks, and it is time that you take your thoughts directly to those who make decisions.  Thoughtful and constructive input should be welcomed ... please don't engage in disparaging crap like we see on TV among politicians.
Rick Weinzierl (217-244-2126; weinzier@illinois.edu)
---
Many are aware that I plan to retire from the University of Illinois in 2016.  I am happy to announce that beginning in January, 2016, Nathan Johanning and Bronwyn Aly, both University of Illinois Extension Local Food Systems and Small Farms Educators, will take over soliciting and editing articles, assembling, and distributing this newsletter, the Illinois Fruit and Vegetable News.  I will continue to contribute articles until I retire, but they will become editors in a few short weeks.  Nathan and Bronwyn will provide information on how to subscribe (or unsubscribe) from the email notification that's sent out each time a new issue is posted, and they will provide information on US Mail subscription rates for those who wish to receive printed copies.  Please be watchful for this information in upcoming issues. 
Rick Weinzierl (217-244-2126; weinzier@illinois.edu)
---
Check the Illinois SARE calendar for a full list of programs and links for registration.
http://illinoissare.org/ and http://illinoissare.org/calendar.php
Also see the University of Illinois Extension Local Food Systems and Small Farms Team's web site at:
http://web.extension.illinois.edu/smallfarm/ and their calendar of events at http://web.extension.illinois.edu/units/calendar.cfm?UnitID=629.
Great Lakes Fruit, Vegetable, and Farm Market EXPO, December 8-10, 2015.  Grand Rapids, Michigan.  See http://www.glexpo.com/.   
Illiana Vegetable Growers Conference, January 5, 2016.  Schererville, Indiana.  8:00 a.m. - 4:00 p.m. CST. Teibel's Restaurant, Schererville, IN. Registration and program available in early December; watch for announcement at https://ag.purdue.edu/hla/Extension/Pages/Events.aspx.  Contact Liz Maynard, 219-531-4200 or vegcrops@purdue.edu.   
Illinois Specialty Crops, Agritourism, ad Organics Conference, January 6-8, 2016.  At the Crowne Plaza Hotel and Conference Center, Springfield, IL.  For program and registration information, see http://jhawkins54.typepad.com/files/educational-program-final.pdf or call Charlene Blary at 309-557-2107.
Also save the dates for several regional programs ...

January 28, 2016:  Horseradish Conference at Collinsville, IL
January 14 through March 31: Small Farm Webinar Series.  Thursdays, noon to 1:00 p.m.  See details below.  To register online, see https://web.extension.illinois.edu/registration/?RegistrationID=13379.   For more information, contact Andy Larson, Extension Educator in Local Food Systems and Small Farms, Boone/DeKalb/Ogle Counties, at (815) 732-2191 or andylars@illinois.edu.   
February 2 and 3, 2016:  Tree Fruit Schools at Mt. Vernon and Hardin, IL, respectively
February 9-10, 2016:  Gateway Small Fruit and Vegetable Conference, O'Fallon, IL
February 25, 2016:  Stateline (IL-WI) Fruit and Vegetable Conference, Rockford, IL
---
From southern Illinois ... We have had continued moderate weather with highs ranging in the upper 50s to low 70s for the last few weeks.  We have had some rainfall, but soil conditions had still been relatively dry, allowing end of season field work to continue until the rains of the last couple of days.  Overall, it has been a very good fall with abundant sunshine and moderate temperatures.  Not only was this good for crops and field work, but also very good for sales of fall crops, with many ideal sunny days for markets, roadside stands, and pumpkin patches.
At home I have been harvesting fall broccoli.  Head size is down a little from some years, mainly due to the dry weather in October; however, insect pressure has seemed lighter than other years.  Quality and flavor is very good.
In our demonstration high tunnel at the Jackson County office, our fall crops are up and growing.  Carrots are up around 2 true leaves, and lots of lettuce, radishes and other greens are off to a good start.  Radishes will be ready soon, and in another month or less we hope to be harvesting lettuce.
Nathan Johanning (618-687-1727; njohann@illinois.edu)
---
Codling Moth and Oriental Fruit Moth Flights at Urbana, 2015
The graphs below provide summaries of our pheromone trap data at the University of Illinois Fruit Research Farm at Urbana, IL.  Graphs trace the average number of codling moths and oriental fruit moths per trap per day in traps placed in our managed research blocks and the old abandoned (unmanaged) seedling block roughly 100 yards to the north. I'll talk more about these graphs and their interpretation in terms of insecticide application decisions in our winter programs, but a couple of brief observations are (1) flights of both species, at least as reflected in moth counts from pheromone traps, were light to moderate at Urbana in comparison with several previous years; and (2) the late season continuation of codling moth flight that we often see through September and even early October at Urbana did not occur in 2015 ... making extended cover sprays through this period unnecessary this year.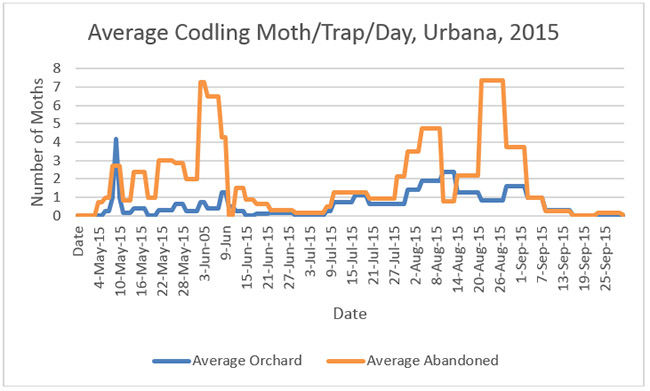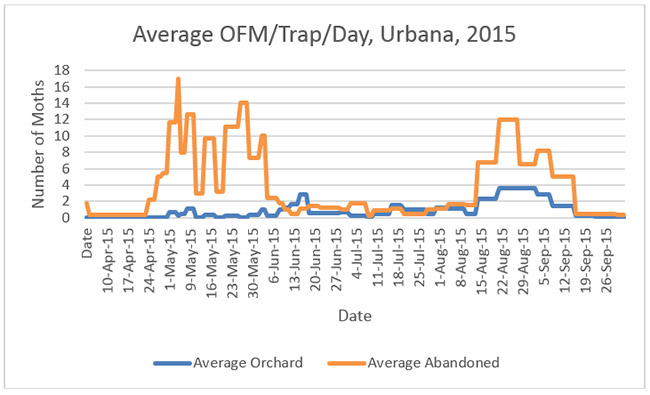 Rick Weinzierl (217-244-2126; weinzier@illinois.edu)
Vole (Mouse) Control In Commercial Orchards
Voles are actively looking for places to nest for the winter, as grain harvest is nearly done and fields are being tilled. Vole damage to trees in Illinois and many Midwestern states can be devastating unless preventative measures are taken to reduce their populations.  In Illinois, vole populations are very high, especially from spring to early fall when there is plenty of grain and vegetation for these animals to feed on.  Tree damage from vole feeding occurs during late fall to early spring, particularly if the ground if covered with snow.  During this period, there is very little vegetation for these animals to feed on, because corn and beans have been harvested and the ground cover is frozen or dormant.  As a result, they feed on less desirable woody plants such as apple and occasionally peach trees.
Vole Species:  There are three species of voles in Illinois and most of the Midwest ...   
(1) Pine vole (Pitymys pinetorum).  This species has a relatively small body, short tail (about the length of the hind-leg), a pointy nose, sunken eyes, and a brownish fur.  Pine voles are usually very shy of venturing into the open, so they tend to feed mostly underground on young roots and root bark.  Pine voles are very damaging to apple trees, because it is very hard to detect injury to the root system until it is too late to save the tree.  It is also difficult to correct the problem by bridge grafting.
(2) Meadow vole (Microtus pennsylvanicus).  This species has a larger body than pine voles, a longer tail (about two times the length of the hind-leg), prominent eyes, and dark grayish fur.  Meadow voles are less shy than pine voles and so they tend to feed in the open, especially if there is enough groundcover to hide under.  They will also feed immediately under the soil surface.  Most of the injury to apple trees from this species occurs at the soil surface.  They use their sharp teeth to peel off the bark, especially of young trees.  However, the damage is not restricted to young trees, I have seen twenty year old trees girdled by meadow voles (see photo below).
(3) Prairie vole (Microtus ochrogaster).  This species is very similar to meadow vole in appearance and eating habits.
Identification of Vole Species and Population Monitoring:  Growers need to determine the potential for tree damage before they apply any treatment.  Vole species and population size are two very important factors for predicting the extent of the damage and for deciding on what control measure are needed to reduce the population.
To identify vole species in an orchard, place about 20 traps per orchard close to active runs and in heavy cover areas.  Measure the length of the tail relative to the hind leg.  If the tail is very short relative to the hind leg and the fur is brownish, then it is likely that it is a pine vole.  However, if the tail is about the length of the hind leg and the fur is grayish, then chances are it is a meadow vole.  Estimate the percentage of the population that is pine versus meadow vole ... this will influence chemical control choices. 
The most effective way of determining vole population is to place a half apple close to tree trunks or at the site of an active run.  Depending on the size of the orchard, place an apple slice every 4 to 5 trees in an orchard of 2 to 3 acres.  In larger orchards, place an apple slice every 20 to 30 trees in each block.  Distribute the apples so they are not close to one another.  If there are shrubs adjacent to the orchard, place an apple slice every 10 to 20 feet in that area as well.  Approximately 24 hours after placing the apple slices in the orchard, check them for signs of gnawing (teeth marks).  The percentage of apples with teeth marks will give an approximate percentage of trees that will be damaged if the vole population is not controlled.
Orchard Vole Control
Non-chemical.  Mowing on a regular basis, especially during early fall, is the most effective treatment for vole control.  When mowing an orchard, it is as important to mow between the trees as it is to mow within the row.  Any tall grass between the trees will likely be a haven for pine and meadow voles. Several years ago I saw an orchard where nearly every tree within a row was damaged by pine voles because the grower failed to mow between the trees.  It is also important to keep a clean area of about 150-200 feet around the orchard to prevent any meadow voles from moving into the orchard.  Such practices can cut vole population by more than 50% in any given year. A herbicide strip or a circle around the tree can also be effective in reducing pine and meadow vole populations.  Herbicide strips alone, however, will not eliminate the problem of vole damage, especially for meadow voles.  When combined with chemical treatment, herbicide strips will reduce vole populations. Another important non chemical practice is to encourage vole predators to move into your orchard.  A good example is to encourage cats to live in and around the orchard.  Also build an observation tower for owls, hawks, and other predatory birds.  This observation tower can be as simple as a 10 to 15 foot pole with a "T" top.
Chemical baits.  At the present, there are two types of chemical baits available for vole control in apple and peach orchards.  They are:  (1) acute baits (zinc phosphide) and (2) anticoagulants (Chlorophacinone and Diphacinone).  Deciding which of these chemical baits to use depends entirely on the vole species.  Although these chemicals will provide some control of both vole species, zinc phosphide has been shown to be more effective against meadow vole, while Chlorophacinone and Diphacinone have been shown to be more effective against pine vole.  Zinc phosphide baits are marketed either as weather resistant pellets or combined with several types of grains, such as cracked corn and oats.  When the vole population is very high, a second application of zinc phosphide may be made within 1 to 2 months after the first.  Zinc phosphide grain baits applied by hand were found not to be very effective against pine vole, however, better control was achieved when apple slices were coated with zinc phosphide liquid at the rate of one teaspoon per quart of water.   Phacinone baits are marketed in a weather resistant pellet form.  Several days of continuous feeding on these formulations are needed for an effective control.  A second application may be added within 3 to 4 weeks after the first one, but not within 2 weeks, because the first application will not take its effect until about 18 to 20 days.
Methods and Timing of Bait Application
Baits can be applied in several different ways, however, not all of these methods are effective.
Hand baiting in the active run.  This method involves placing baits in the active runs at each hole.  This method is very effective, however it is not practical in large planting with a large vole population.  An alternative method is to place the bait under a bait station, as will be described in the next section.  This method is more practical and effective for vole control.  It is also less hazardous to other animals and birds in the orchard.
Broadcast baiting.  This method is effective for control of meadow vole, but not for pine vole.   Other animals and birds may be harmed by broadcast bait and, therefore, it is not recommended.
Trail baiting. A trail building machine may be used to apply the bait in furrows.  This method is not very effective for control of meadow vole and only slightly effective for pine vole. 
Spray.  Zinc phosphide spray in late fall was found to be somewhat effective against meadow vole population.  However, this practice is harmful to the environment and to other animals and, therefore, we do not recommend it.
Placing bait by hand under bait stations is a better way of controlling voles in apple orchards.  The best time to apply these chemicals is late summer through early spring when there is little vegetation for these animals to feed on.
Bait Stations.  The most effective bait station is the one that will provide dark shelter with some ventilation to prevent the bait from molding.  Shingles, PVC pipes, metal sheets, split tires, and many other types of stations have been used to cover chemical baits.  Metal stations may damage the blades of mowers. If you do use metal stations make sure to remove them in early spring.    Ross Beyers from Virginia found that split tires were more effective than other stations that he tested.  The tires are split in half along the thread.
It is best to place bait stations in the field by mid-summer so the animals will get accustomed to their presence. However, there is still time to place the stations before any snow buildup.
General Recommendations.
Mowing is critical especially during late summer and early fall to prevent any over growth.  Mow between rows and between trees in each row.
Remove any shrubs and tall grass at least 200 feet around the orchard.
Never place straw or any type of mulch around the tree that will attract vole.
Place bait stations 2 to 3 months before baiting.
Check bait periodically for mold.
Move stations to active runs. 
Avoid placing bait immediately before or immediately after a rain storm.
Zinc phosphide is not effective as repeat bait.  In other words, voles tend to shy away from it after the first feeding.
Read the label and follow it carefully.
Acquire any necessary permits before you apply any type of bait.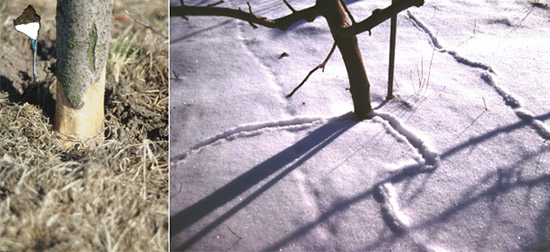 Left: An eight year old apple tree girdled by prairie/meadow vole. Right: Tracks of prairie/meadow vole in the snow.
Mosbah Kushad (217-244-5691; kushad@illinois.edu)
---
Corn Earworm Moth Flight at Urbana, 2015
The graph below summarizes our trapping data from 2 wire cone traps baited with Zealure pheromone dispensers during the summer of 2015.  The traps were about ½ mile apart just south of Windsor Road in Urbana.  Although traps captured enough moths (greater than 5-10 per night) to warrant sprays to keep sweet corn ears free of earworm larvae on several occasions through the season, we never saw the explosion of moth counts -- 200-400 per night -- that we see during at least brief periods most summers, especially in mid- to late August or early September.  This was a welcome relief from the challenges that those heavy flights pose, but do keep in mind that a spray program that was adequate during light to moderate flight periods may not work so well next year if flights are heavier.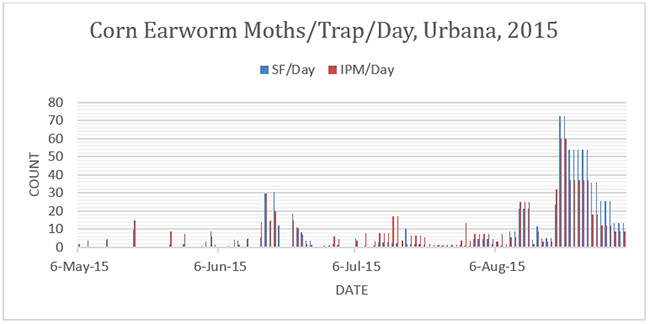 Rick Weinzierl (217-244-2126; weinzier@illinois.edu)
Managing Soil Fertility: Taking a "Good" Soil Sample
Now is often the time of year that we think about soil sampling and getting a handle on the fertility needs of individual fields.  This is a great time to collect soil samples if soils are not too wet and still not frozen.   One of the keys to getting good information from soil samples is to take a good sample.  Almost any lab (or soil fertility instructor) will tell you that your results are only as good as the quality of the sample you take.  Here are a few recommendations on how to take a "good" sample:
Choose sample areas based off of previous management, crop history, slope, and soil type.  Fields can vary in nutrients levels due to management practices that occurred many years before.  Some examples of things to consider would be old field borders, band applied fertilizers (especially Lime, P, & K), or any differences you have observed in crop growth.  If you do not sample specific areas separately, the results from one area might dilute or inflate nutrient estimates, not giving you an accurate assessment of the field. 
Size of each sample area.  Generally I would recommend a maximum sampling area size of no more than 5 acres (2.5 acres preferred) for fruit and vegetable producers, at least until you have a baseline understanding of the field.  However, for many specialty crop growers with smaller field sizes, you may want a sample for a plot as small as ½ acre or even less.  Again, use management history instead of a set number of acres to determine how much area to represent with one sample.   
Pull 6 to 10 cores (6 to 7 inches deep) and mix them together to form each sample. This gives you a good representation of the variability of an area, and this number of samples helps to control for any small-scale variability in the field.  Mix well and fill to the designated level on the soil sample bag, which is usually no more than a pint.  You can discard of  any extra soil; no need in paying for extra shipping, and most soil labs already have an abundance of extra soil so they probably would prefer not have any more in excess.  
Use a probe or spade to get a sample that is representative of the top 6 -7 inches of the soil ... we typically consider this zone in the soil to be the primary rooting zone, and your sample should equally reflect that profile. You want to have just as much soil from 6 inches down as the top inch so you are not biasing the sample for possible increased fertility.  A soil probe is the easiest tool to use for this. 
Keep good records.  Record the sampling areas and how you designated them. This will help you when you take samples in the future (at least every 3-4 years) to be able to compare back so you can see how your management practice have changed the soil fertility levels.  Also, if you are comparing from year to year, it is recommended to always sample in the same time of year for consistency.
For soil labs that will analyze your samples, you can find a listing at https://extension.illinois.edu/soiltest/ or from the Illinois Soil Testing Association at http://www.soiltesting.org/5certifiedlabs.html.
Nathan Johanning (618-687-1727; njohann@illinois.edu)
---
Small Farms Winter Webinar Series
University of Illinois Extension will present a weekly educational series for the small farm community to provide practical information on emerging topics that advance local food production in Illinois. These online presentations will give small farmers a look at how leading practices in production, management, and marketing enable operations to improve profitability and sustainability. This year's series includes new topics such as farm pond ecology, producing Shiitake mushrooms, the emerging local grain economy in Illinois, raising meat birds on pasture, and growing great blackberries. Webinars will be held from noon -1:00 pm on Thursdays and are free.
Choose any number of the following webinars to attend when you register.  Topics include:
Jan. 14 - Lean Farming: Cutting Waste and Maximizing Efficiency on Small Farms, Zack Grant, University of Illinois Extension Local Food Systems and Small Farms Educator
Jan. 28 - Farm Pond Ecology: Managing for Desirable Plants and Fish, David Shiley, University of Illinois Extension Local Food Systems and Small Farms Educator
Feb. 4 - Producing Shiitake Mushrooms, Grant McCarty, University of Illinois Extension Local Food Systems and Small Farms Educator
Feb. 11 - Managing Horse Pastures on Small Farms and Acreages, Jamie Washburn, University of Illinois Extension Local Food Systems and Small Farms Educator
Feb. 18 - The Emerging Local Grain Economy in Illinois, Bill Davison, University of Illinois Extension Local Food Systems and Small Farms Educator
Feb. 25 - Food Safety Modernization Act: Changes for Small Scale Producers, Laurie George, University of Illinois Extension Local Food Systems and Small Farms Educator
Mar. 3 - Getting Your Beehives Ready for Spring, Doug Gucker, University of Illinois Extension Local Food Systems and Small Farms Educator
Mar. 10 - Raising Meat Birds on Pasture, Andy Larson, University of Illinois Extension Local Food Systems and Small Farms Educator
Mar. 17 - Using Cover Crops on Small Farms, Nathan Johanning, University of Illinois Extension Local Food Systems and Small Farms Educator
Mar. 24 - Growing Great Blackberries, Bronwyn Aly, University of Illinois Extension Local Food Systems and Small Farms Educator
Mar. 31 Setting Up a Grazing System on a Small Farm, Jay Solomon, University of Illinois Extension Energy and Environmental Stewardship Educator
The webinars can be accessed on-line from your personal computer. In case you cannot attend these dates, register anyway to view an archived, recorded version. Information will be provided via email (the Monday after airing) for viewing at your convenience. They can also be accessed on our website at: http://web.extension.illinois.edu/smallfarm/webinar.html.  Contact your local Extension office for more information about live viewing sites. For more information, contact: Andy Larson, University of Illinois Extension, Local Food Systems and Small Farms Educator at 815-732-2191 or andylars@illinois.edu.  When you register, PLEASE MAKE SURE YOUR EMAIL ADDRESS IS CORRECT.
Andy Larson (815-732-2191; andylars@illinois.edu)
---

University of Illinois Extension Specialists in Fruit and Vegetable Production & Pest Management
Extension Educators – Local Food Systems and Small Farms

Bronwyn Aly, Gallatin, Hamilton, Hardin, Pope, Saline, and White counties

618-382-2662

Stephen Ayers, Champaign, Ford, Iroquois, and Vermilion counties

217-333-7672

Deborah Cavanaugh-Grant, Logan, Menard and Sangamon counties

217-782-4617

Bill Davison, Livingston, McLean, and Woodford counties

309-663-8306

Laurie George, Bond, Clinton, Jefferson, Marion, & Washington counties

618-548-1446

Zackhary Grant, Cook County

708-679-6889

Doug Gucker, DeWitt, Macon, and Piatt counties

217-877-6042

Nathan Johanning, Franklin, Jackson, Perry, Randolph, & Williamson counties

618-687-1727

Andy Larson, Boone, DeKalb, & Ogle counties

815-732-2191

Grant McCarty, Jo Daviess, Stephenson, and Winnebago counties

815-235-4125

Mike Roegge, Adams, Brown, Hancock, Pike and Schuyler counties

217-223-8380

David Shiley, Coles, Cumberland, Douglas, Moultrie and Shelby counties

217-543-3755

James Theuri, Grundy, Kankakee, and Will counties

815-933-8337

Jamie Washburn, Effingham, Jasper, Clay, Fayette, Clark, Crawford and Edgar counties

217-374-7773

Extension Educators – Horticulture

Richard Hentschel, DuPage, Kane, and Kendall counties

630-584-6166

Andrew Holsinger, Christian, Jersey, Macoupin, & Montgomery counties

217-532-3941

Elizabeth Wahle, Bond, Clinton, Jefferson, Marion, Madison, Monroe, St Clair, and Washington counties

618-344-4230

Horticulture Research-Extension Specialists at our Research Stations

Jeff Kindhart, Dixon Springs Agricultural Center

618-695-2770
618-638-7799 (cell)

Shelby Henning, St. Charles Horticulture Research Center

630-584-7254

Campus-based  Extension Specialists

Mohammad Babadoost, Plant Pathology

217-333-1523

Mosbah Kushad, Fruit & Vegetable Production

217-244-5691

Chuck Voigt, Vegetable Production (& herbs)

217-333-1969

Rick Weinzierl, Entomology

217-244-2126