Address any questions or comments regarding this newsletter to the individual authors listed after each article or to its editors, Nathan Johanning, 618-687-1727, njohann@illinois.edu or Bronwyn Aly 618-382-2662, baly@illinois.edu. The Illinois Fruit and Vegetable News is available on the web at: http://ipm.illinois.edu/ifvn/. To receive email notification of new postings of this newsletter, contact Nathan Johanning at the phone number or email address above.
---
In This Issue:
Upcoming Programs (listings for beginning and established growers)
Regional Reports (north central, southwestern, southern Illinois)
Fruit and Vegetable Production and Pest Management (Fall Sanitation in Apples and Cucurbits, Mulching Matted-Row Strawberries, Phytophthora in Pumpkins, Cover Crop Highlight: Cereal Rye)
University of Illinois Extension educators and specialists in fruit and vegetable production and pest management
---
Check the Illinois SARE calendar for a full list of programs and links for registration.
http://illinoissare.org/ and http://illinoissare.org/calendar.php
Also see the University of Illinois Extension Local Food Systems and Small Farms Team's website at:
http://web.extension.illinois.edu/smallfarm/ and the calendar of events at http://web.extension.illinois.edu/units/calendar.cfm?UnitID=629.   
Growing Your Market with Grants--Find the Correct Fit Grant Writing Basics Free Webinar. Tuesday, October 25, 2016 at 6:30 pm.  Are you a farm market manager looking for local, state, federal, and foundation grant programs to expand your market and available programs?  If so, attend this 90 minute webinar to learn the basics and hear experiences from other market managers.  Led by Deborah Cavanaugh-Grant, New Leaf Consulting, in partnership with University of Illinois Extension.  To register visit https://web.extension.illinois.edu/registration/?RegistrationID=15194&mc_cid=f886b1f764&mc_eid=38c2d7c744
Local and Regional Food Conference, November 15, 2016 9:00 AM to 5:00 PM (doors open at 8:30 AM) The Pavilion, 1602 Sioux Drive, Marion, IL.  Event registration fee is $25 for Farm Bureau members ($35 for non-Farm Bureau members) and includes all event materials and lunch. Due to limited seating, registration must be completed by Nov. 10, 2016. On-site registration is $40.00 per person. Space fills up quickly--online registrations are encouraged. For more information and registration, visit HERE or contact Charlene Blary at CBlary@ilfb.org  or (309) 557-3619.
Local Foods for Institutional Buyers, November 30, 2016 at the Champaign County Farm Bureau at 801 N. Country Fair Drive, Champaign, IL.  The agenda and more information can be found at:  http://housing.illinois.edu/dining/about-dining/local-foods .  Registration can be completed at:  http://go.illinois.edu/Local_Producers The Local Foods for Institutional Buyers is to introduce producers, processors, distributors, educators and institutions. The symposium will address navigating the state procurement system by addressing the why, the what, and the how for local producers, local processors and the institutional buyer.
Great Lakes Fruit, Vegetable, and Farm Market Expo, December 6-8, 2016.  On-line registration is now open.  For more information, contact Maureen Kelley, EXPO Registration Manager, Association Management Resources (AMR) 1390 Eisenhower, Ann Arbor, MI 48108 call 734-239-8027 or email mkelley@glexpo.com  The North American Berry Conference of the North American Strawberry Growers Association and North American Raspberry & Blackberry Association is being held in conjunction with the Great Lakes EXPO as one of the pre-conference events. Workshops and educational sessions for strawberry and caneberry growers, along with the NASGA and NARBA annual meetings will be held on Monday, Dec. 5 in advance of the Great Lakes EXPO. Additional berry sessions are available as part of the EXPO on Tuesday, Dec. 6.  NABC schedule can be found at http://www.glexpo.com/about-the-expo/pre-conference-events#berry
Illinois Specialty Crops, Agritourism, and Organics Conference, January 11-13, 2017.  Crown Plaza, Springfield, IL.  For more information, Illinois Specialty Growers Association, 1701 Towanda Ave., Bloomington, IL 61701. Phone 309/557-2107 FAX 309/557-3729 E-mail Cblary@ilfb.org.
Ohio State University 2016 Direct Marketing Webinar Series. Noon (Eastern time). Take this opportunity to learn more about marketing issues. Recordings of all webinars can be found at www.go.osu.edu/DirectMarketingWebinars. Links below are for recording for previous webinars and connection links for future sessions.
Save the Date for the following Winter Programs

January 26, 2017.  Horseradish Growers Convention, Madison-Monroe-St Clair Extension Branch Office, Collinsville, IL
February 13, 2017.  Stateline Fruit and Vegetable Conference, Rockford, IL
February 15, 2017.  Gateway Small Fruit and Vegetable Conference, Regency Conference Center O'Fallon, IL
February 24-25, 2017.  Illinois Grape Growers and Vintners Association Winter Wine Festival and Annual Conference Crowne Plaza Springfield, IL 
---
From north-central Illinois... The heat returned somewhat this past weekend with highs in the 80s and warm evenings. Winds shifted this morning, and we will go back to our more seasonal fall weather. These beautiful weekends have been ideal for those involved with agri-tourism. I've visited a few farms over the last two weekends and have been met with lines for hayrack rides and at the cash register. Even smaller roadside operations have a steady stream of customers.
It is still somewhat dry out there. Since October 1, we've had one major rain event dropping about 0.94-inch of precipitation. August was another dry month for us. I would suggest if you have newly planted perennial crops (fruit trees to canes fruits to strawberries and so on) these likely will need some attention when it comes to soil moisture. Irrigate if we go longer than a week without an inch of rain. Checking the long-range forecast (7 days by the time this newsletter reaches your inbox), we are not due for another round of rain as far as the weather models can predict.
It is time to get winter protection in place for fruit and nut trees. A common practice I've seen in both orchards growers and landscapers is the use of black plastic field tile pipe around the base of young trees. All the literature I've found on this topic dissuades the use of black plastic pipe, citing the significant fluctuations in temperature as a concern. Basic physics teaches us the color black absorbs most light energy and radiates it back out as heat energy. Large swings in the temperature surrounding the trunk can be detrimental to plant tissue on sunny, freezing winter days and hot blistering summer days.
Publications on the topic of winter protection for tree trunks recommend using paper wraps or white plastic guards on trees younger than two years. Trees two years or older can continue to use the wrappings stated prior or an interior grade white latex paint. Avoid oil-based paints as these are toxic to trunk tissue. Remove the wrappings after the chances of deer rubbing and browsing diminish in the spring. Fine mesh hardware cloth (1/4-inch), can be used year-round for trunk protection against deer and rodents. Make sure there is plenty of room for future growth.
When using plastic trunk guards or hardware cloth dig the base of the protective barrier about two inches into the soil. Be careful not to damage the tree roots. Mulching the root zone (while keeping mulch two inches away from the trunk) helps with any freeze-thaw damage that can occur with newly planted trees. In a tacky clay (gumbo) soil, I've seen fall planted trees ejected from their planting hole by late winter.
Chris Enroth (309-837-3939; centroth@illinois.edu)
From the southwestern Illinois ... The harvest season is winding down in the southwest region, with apple cultivars like Fuji, Granny Smith and EverCrisp in harvest for many growers. The pumpkin market kicked into high gear and the weather has been cooperating with agritourism operations. 
Penn State Extension has just released a series of short videos on what the Food Safety Modernization Act (FSMA) is and whether your farm or food business may be affected by it.  These videos are very well done and are just as applicable to Illinois farms and food businesses since FSMA is a federally mandated and enforced regulation.  http://extension.psu.edu/food/safety/food-safety-modernization-act/videos
Elizabeth Wahle (618-344-4230; wahle@illinois.edu)
From southern Illinois ... We have been unseasonably warm over the weekend and first of the week with temperatures in the upper 80s and even a few low 90s on Sunday.  It was very windy, especially on Monday and Tuesday, which really dried things out.  Some areas are now in need of some rain.  I did get reports that some areas to the south of Murphysboro did get some rain last week which slowed any fall field work, but here in Murphysboro and to the north we haven't had much to speak of.  Rain is in the forecast for later today (Wednesday) and we have had a few showers pass through Murphysboro today.  With the rain comes some cooler temperatures with highs in the 60s and lows in the 40s, warming to highs in the 70s and sunshine predicted for the weekend.
Things are starting to slow down out in the field.  Pumpkin harvest is coming to a close with just a few weeks of prime marketing left.  Apple harvest is also coming to the end.  Many vegetable growers are still getting some late tomatoes, peppers, and zucchini.  Fall green beans have done well with the drier conditions and fall broccoli and other cole crops are also doing well but the insect pressure has been pretty high so make sure to keep a watch for diamondback moth, cabbage looper and imported cabbage worm.  As always refer to the Midwest Vegetable Production Guide for details on recommended products. 
Nathan Johanning (618-687-1727; njohann@illinois.edu)
---
Fall Sanitation in Apples and Cucurbits
Since some leaves are in the process of dropping, it is time to be thinking about sanitation measures to reduce the amount of overwintering apple scab pathogen.  The fungus that causes apple scab overwinters on fallen leaves and develops fruiting bodies in the spring.  The goal in sanitation is to speed decomposition of fallen leaves to prevent the apple scab fungus from successfully overwintering.  This can be accomplished in a couple of ways.  One is to mulch or flail mow in the fall or early spring (prior to green tip); keeping in mind that raking under the trees may be necessary to do a complete job.  This method alone can significantly reduce the amount of overwintering pathogen. A second method is to apply a solution of 5% urea (by weight) to trees just before leaves fall or immediately after leaf fall to leaves on the ground to avoid any late-season stimulation of growth (even better if you mulch leaves first, then apply the urea).  To do a rough calculation, assume a gallon of water weighs 8.35 lbs; 5% of that is 0.42 lbs or 6.7 oz.  So, for every 100 gal (835 lbs), you need to fill the tank with at least half of the volume of water (note that urea will dissolve in its own weight in water, but it becomes increasingly difficult to dissolve as the concentration increases), turn on agitation, add 42 lbs of urea to the tank, then bring up to the 100 gal volume mark.
Sanitation of vine crop residue is also critical in terms as managing overwintering pathogens.  Like apple scab, many of the diseases that affect pumpkins overwinter on vine residue.  Operations that speed decomposition of vine residue greatly reduce primary infection the following season.  Smaller particles break down faster so bush hogging or flail mowing vines before plowing down is beneficial.  For growers on a no-till system, reducing particle size for rapid decomposition of diseased plant material is a must.  Keep in mind that a disease like Phytophthora (Oomycetes) is capable of over-wintering in the soil without the benefit of plant residue.  If Phytophthora was present in the field follow the same procedure, but plan to rotate out cucurbit and solanaceous (especially peppers) crops for at least 4 years.
Elizabeth Wahle (618-344-4230; wahle@illinois.edu)
Mulching Matted-Row Strawberries
Strawberry growers should secure an order of straw to cover their mulching needs.  For the southern region, application may be a ways off, but start planning now.  Strawberry leaves are still active well into late autumn, and applying mulch too early in the fall can reduce the plant's ability to produce and store reserves needed for winter survival. If the mulch is applied too soon, before plants are dormant, the mulch can cause rotting of the leaves and crowns. If mulch is delayed too late, low temperatures could damage crowns. The best time to apply mulch is after the strawberry plants have experienced several light frosts, but before temperatures drop to 20°F, at which point injury can occur. After several light frosts, the leaves attached to the crown should begin to flatten out, signaling the time to mulch. The mulch should be applied three to four inches deep over the plant rows. One bale of straw pulled apart should cover about 100 square feet.
Elizabeth Wahle (618-344-4230; wahle@illinois.edu)
Pumpkin Fruit Rot in the Fields and Bins: Phytophthora and Sanitation
Phytophthora blight, caused by Phytophthora capsici, is one of the most serious diseases of cucurbits in Illinois and other Midwestern states. Total crop and yield losses in pumpkin fields in Illinois caused by P. capsici have been observed in the past.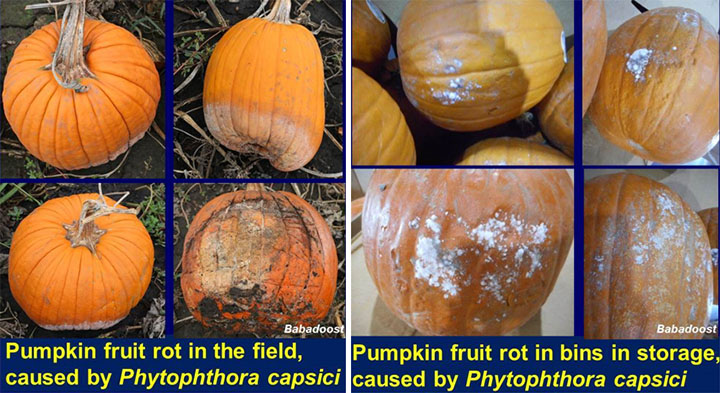 P. capsici survives in the soil and can infect pumpkin vines and fruit at any stage of growth and in storage. Vines can be infected at any part and lesions developed on infected sites in 2-3 days. The lesions are dark brown, water-soaked, and girdle the vine, causing the vine to collapse and die. Fruit rot generally starts on the side of the fruit that is in contact with the ground. Infection of a fruit can also start at any site that contacts the pathogen. Infection results in rapid fruit rot. Fruit rot typically appears as a water-soaked lesion, expands, and becomes covered with fluffy white mold. 
In 2016, extensive fruit rot of pumpkins occurred in the bins after harvest. After an investigation, I discovered that the problem was worker sanitation. The workers cut and collect the fruits and put them in the bin, which goes to the warehouse and finally to the stores. There were some pumpkin fruits in the field that were infected by P. capsici on the soil side. Workers picked them up and realize the pumpkins are decaying. They put the infected pumpkins down, but their hands are contaminated. When they picked up healthy pumpkins and put them in the bins, their contaminated hands transfer the pathogens to the uninfected pumpkins. After a few days, the pumpkins start rotting from the top or sides, wherever the worker touched them. Growers should be very careful. If workers touch infected pumpkins, they have to decontaminate their hands. Use alcohol or wash hands with soap before touching uninfected pumpkins.
Mohammad Babadoost (217-333-1523; babadoos@illinois.edu)
Cover Crop Highlight: Cereal Rye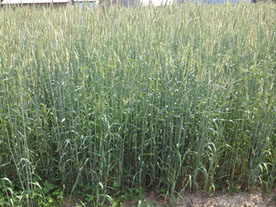 Photo: N. Johanning
It isn't too late to get some cover crops planted.  We are nearing the end of the time to seed annual rye grass and crimson clover and I would not recommend seeding any frost sensitive or winter killed cover crops this late unless you are betting on a very mild November and December.  However, we still have plenty of time to plant cereal rye. 
Cereal rye is a great winter annual cover that is most noted for its cold hardiness and germination even in very cold soils. Cereal rye is a great soil builder with an extensive root system and very good ability suppress weeds, scavenge nutrients, and reduce soil erosion.
Planting
Cereal rye will germinate on the soil surface with some moisture, but drilling or shallow incorporation will improve stand and consistency.  In southern Illinois, I have seeded cereal rye as late as mid-November and still ended up with a decent stand the next spring. Although it handles the cold, it can be planted as early as mid-September.  I have surface broadcasted cereal rye many times with good success.  Seeding rates start at around 40-60 lbs/A on up to 70-90 lbs in situations where you really want heavy biomass, for example as weed control in no-till production.  If you are new to cereal rye I would recommend the lower seeding rates to start and then with experience go from there.  Also, use higher rates when you surface broadcast compared to drilling and use higher rates later in the season.  Less fall growth means less tillering and branching for each plant so you can compensate by having more plants.
Termination
Cereal rye is easily killed with glyphosate (ie Roundup), or can be mowed or crimped at flowering in the spring.  Also, it can be incorporated as a green manure as well.  If you do want to incorporate the green biomass in the spring, there are a few things you should keep in mind.  First, is cereal rye can grow to upwards of 4 + feet tall so I would do it early while it is still soft and lush or make sure you have equipment that can handle the residue.  If you wait till later, you can actually tie up almost all of your nitrogen in the residue and when incorporated its decomposition can really take up the nitrogen.  The N will all come back, but sometimes not in time for when your crop needs it.  If you incorporate it when it is 12" tall or less, the Carbon:Nitrogen ratio is relatively low the residue will break down quickly and you will still have a great winter cover and avoid the nutrient imbalance issues.
Making Use of Cereal Rye
Since it can tolerate colder temperatures this makes it a good options for those fields that haven't been planted yet.  It is a favorite cover crop for use in no-till vegetable production as it makes a great residue and weed supression for cucurbits or other vegetables.  It can be used just as a good cover to hold the soil over the winter.  Even though it might look small above the ground the roots keep growing into the late fall and early winter and really help to hold the soil in place.
For more information on cereal rye or other cover crops you can always visit the Midwest Cover Crop Council Website at www.mccc.msu.edu.
Nathan Johanning (618-687-1727; njohann@illinois.edu)
---
Some Halloween humor seemed appropriate for this issue.
My daughter said she's gonna be a hoe for Halloween. I think it's cute that she likes gardening.
My daughter's really into the Halloween spirit. She's been in her pregnant lady costume for months now.
The older you get, the harder it is to find someone willing to share a horse costume with you.
You strike me as one of those people who hands out fruit on Halloween.
For Halloween you should go as the person you claim to be on Facebook.
Thank goodness for Halloween, all of a sudden, cobwebs in my house are decorations!
---

University of Illinois Extension Specialists in Fruit and Vegetable Production & Pest Management
Extension Educators – Local Food Systems and Small Farms

Bronwyn Aly, Gallatin, Hamilton, Hardin, Pope, Saline, and White counties

618-382-2662

Stephen Ayers, Champaign, Ford, Iroquois, and Vermilion counties

217-333-7672

Bill Davison, Livingston, McLean, and Woodford counties

309-663-8306

Laurie George, Bond, Clinton, Jefferson, Marion, & Washington counties

618-548-1446

Zackhary Grant, Cook County

708-679-6889

Doug Gucker, DeWitt, Macon, and Piatt counties

217-877-6042

Nathan Johanning, Franklin, Jackson, Perry, Randolph, & Williamson counties

618-687-1727

Andy Larson, Boone, DeKalb, & Ogle counties

815-732-2191

Grant McCarty, Jo Daviess, Stephenson, and Winnebago counties

815-235-4125

David Shiley, Coles, Cumberland, Douglas, Moultrie and Shelby counties

217-543-3755

James Theuri, Grundy, Kankakee, and Will counties

815-933-8337

Jamie Washburn, Effingham, Jasper, Clay, Fayette, Clark, Crawford and Edgar counties

217-374-7773

Extension Educators – Horticulture

Chris Enroth, Henderson, Knox, McDonough, and Warren counties

309-837-3939

Richard Hentschel, DuPage, Kane, and Kendall counties

630-584-6166

Andrew Holsinger, Christian, Jersey, Macoupin, & Montgomery counties

217-532-3941

Elizabeth Wahle, Madison, Monroe, and St Clair, and counties

618-344-4230

Campus-based  Extension Specialists

Mohammad Babadoost, Plant Pathology

217-333-1523

Mosbah Kushad, Fruit & Vegetable Production

217-244-5691