"We are what we repeatedly do. Excellence, then, is not an act, but a habit." --Aristotle
Address any questions or comments regarding this newsletter to the individual authors listed after each article or to its editor, Rick Weinzierl, 217-333-6651, weinzier@illinois.edu. To receive e-mail notification of new postings of this newsletter, call or write the same number or address.
---
In This Issue:
Upcoming Programs (lots of listings for beginning and established growers)
Regional Reports (from southern and western Illinois)
Fruit Production and Pest Management (brown marmorated stink bug)
Vegetable Production and Pest Management (biological control of insects and mites in high tunnels)
Local Foods Issues (Zachary Grant, new Extension Educator in Cook County)
University of Illinois Extension educators and specialists in fruit and vegetable production and pest management
---
Check the Illinois SARE calendar for a full list of programs and links for registration.
http://illinoissare.org/ and http://illinoissare.org/calendar.php
Also see the University of Illinois Extension Local Food Systems and Small Farms Team's web site at:
http://web.extension.illinois.edu/smallfarm/ and their calendar of events at http://web.extension.illinois.edu/units/calendar.cfm?UnitID=629.
Small Farm Webinar Series:  A weekly educational series for the small farm community on important topics to advance local food production in Illinois. This series is aimed at providing small farm producers with a look at how leading practices in production, management, and marketing enable operations to improve profitability and sustainability.  Webinars air live each Thursday at 1:00 - 2:30 p.m. and include a question and answer session.  If you cannot attend, a link to the recorded webinars will be available to view at your convenience for all those who register.  To register, see http://go.illinois.edu/2015winterwebinars or contact:  Miki White, University of Illinois Extension, Small Farms/Local Foods Program Coordinator, Knox County; 309-342-5108 or miki7047@illinois.edu.


| Date | Topic |
| --- | --- |
| Jan. 15, 2015 | No-till culture for Peppers & Tomatoes |
| Jan. 22, 2015 | Growing Hops for Market |
| Jan. 29, 2015 | Potato Production |
| Feb. 5, 2015 | Sweet Corn Production |
| Feb. 12, 2015 | Perennial Crops for Small Farms |
| Feb. 19, 2015 | Understanding Insecticides |
| Feb. 26, 2015 | Blueberry Production |
| Mar. 5, 2015 | Hydroponics |
| Mar. 12, 2015 | Effective Farmers Market Displays |
| Mar. 19, 2015 | Veggie Compass Record-Keeping Software |
| Mar. 26, 2015 | Variety Selection & Rootstocks for Establishing Apple Orchards |
Kyle Cecil (309-342-5108; cecil@illinois.edu)
---
From the Dixon Springs Agricultural Center ... We have added a lettuce float bed to our collection of hydroponic equipment. While NFT techniques such as gutters are popular for raising lettuce, older methods such as float beds are still used and represent a viable low cost alternative.  This winter we will evaluate 14 Bibb lettuce cultivars in two NFT systems and one float bed system.  In addition, we have also made plantings of hydroponic tomatoes and cucumbers for our Beginning Farmers class and a hydroponic workshop that will be held here later this winter.
Jeff Kindhart (618-695-2770; jkindhar@illinois.edu) and Julie Zakes (zakes@illinois.edu)
From western Illinois ... Temperatures during the week of January 5 were bitterly cold, but the last few days have warmed significantly.  Although the cold snap wasn't long-lived, we did experience some significant freezing of the ground. Extreme cold weather events are a unique opportunity to "test" our high tunnels. By this I mean the opportunity to monitor the temperature extremes and variability within the tunnels during these events. I am always amazed at how "comfortable" it can be inside these structures with minimal sunlight during the winter months. We experienced colder temps last January, and plants that were the right variety, planted at the right time and given the opportunity to recover did quite well.
Growers throughout the region have started trays of tomatoes, greens and other plants destined for area high tunnels. It won't be long till we are in the heat of the growing season. It can't come soon enough.
Kyle Cecil (309-342-5108; cecil@illinois.edu)
---
Brown Marmorated Stink Bug

At the Illinois Specialty Crops, Agritourism, and Organics Conference on January 9 I provided an update on a few insect pests of fruits ... one that I covered is brown marmorated stink bug (BMSB).  BMSB has been detected in the counties indicated on the map above and probably is present in additional counties as well.  Most fruit growers will NOT likely encounter this insect at densities that warrant control this year, but a few may.  The insecticides listed in the table above are among the most effective against BMSB.  See http://plant-pest-advisory.rutgers.edu/bmsb-insecticide-options-revised/bmsb-spray-schedule-table-3/ for a more extensive list.  I'll provide updates and sampling recommendations for this insect at upcoming fruit programs and later issues of this newsletter. 
Rick Weinzierl (217-244-2126; weinzier@illinois.edu)
---
Biological Control for Insect Management in High Tunnels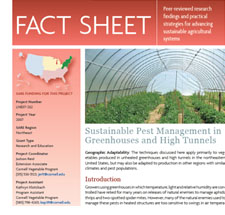 Aphids, thrips, and mites (not actually insects) often are greater problems in high-tunnel production of tomatoes, cucumbers, and other crops than they are in outdoor production.  Because of insecticide resistance, spray coverage problems, pre-harvest restrictions, and the high value of crops within high tunnels, biological control of these pests by use of predators and parasites can be a cost-effective alternative to insecticide and miticide applications.  A useful source of information that addresses biological control of insects and mites in high tunnels is Sustainable Pest Management in High Tunnels and Greenhouses, a SARE publication. See http://www.sare.org/Learning-Center/Fact-Sheets/Sustainable-Pest-Management-in-Greenhouses-and-High-Tunnels.  You can download the pdf from this site.
Suppliers of biological control organisms for release in high tunnels and greenhouses include Biobest (contact Veronica Cervantes at 248-912-4774; veronica@biobest-usa.com; see www.biobest-usa.com) and Koppert Biological Systems, Inc. (1-800-928-8827; fax: 1-734-641-379; see: www.koppert.com). 
Rick Weinzierl (217-244-2126; weinzier@illinois.edu)
---
Zachary Grant hired as Extension Educator in Cook County
Zack Grant, currently the manager of the Student Sustainable Farm at the University of Illinois campus at Urbana, has been hired as a Local Food Systems and Small Farms Extension Educator in Cook County.  In addition to a range of production and marketing  topics, a portion of his responsibilities will focus on Farm-to-School programming.  We'll provide more information (including a phone number) after Zack starts in this new position on February 2, 2015.  His email address is zgrant2@illinois.edu.
---
Two antennas met on a roof, fell in love, and got married.  The ceremony wasn't much, but the reception was excellent.
A jumper cable walks into a bar.  The bartender says, "I'll serve, but you better not start anything."
A man walks into a bar with a slab of asphalt under his arm and says, "A beer please, and one for the road."
An invisible man married an invisible woman.  Their kids sure weren't much to look at.
A vulture carrying two dead raccoons boards an airplane.  The flight attendant looks at him and says, "I'm sorry, only one carrion allowed per passenger."
---

University of Illinois Extension Specialists in Fruit and Vegetable Production & Pest Management
Extension Educators – Local Food Systems and Small Farms

Bronwyn Aly, Gallatin, Hamilton, Hardin, Pope, Saline, and White counties

618-382-2662

Stephen Ayers, Champaign, Ford, Iroquois, and Vermilion counties

217-333-7672

Deborah Cavanaugh-Grant, Logan, Menard and Sangamon counties

217-782-4617

Kyle Cecil, Henderson, Knox, McDonough, and Warren counties

309-342-5108

Bill Davison, Livingston, McLean, and Woodford counties

309-663-8306

Connie Echaiz, Lake and McHenry counties

847-223-8627

Laurie George, Bond, Clinton, Jefferson, Marion, & Washington counties

618-548-1446

Doug Gucker, DeWitt, Macon, and Piatt counties

217-877-6042

Nathan Johanning, Franklin, Jackson, Perry, Randolph, & Williamson counties

618-687-1727

Andy Larson, Boone, DeKalb, & Ogle counties

815-732-2191

Grant McCarty, Jo Daviess, Stephenson, and Winnebago counties

815-235-4125

Mike Roegge, Adams, Brown, Hancock, Pike and Schuyler counties

217-223-8380

David Shiley, Coles, Cumberland, Douglas, Moultrie and Shelby counties

217-543-3755

James Theuri, Grundy, Kankakee, and Will counties

815-933-8337

Jamie Washburn, Effingham, Jasper, Clay, Fayette, Clark, Crawford and Edgar counties

217-374-7773

Extension Educators – Horticulture

Richard Hentschel, DuPage, Kane, and Kendall counties

630-584-6166

Andrew Holsinger, Christian, Jersey, Macoupin, & Montgomery counties

217-532-3941

Sonja Lallemand, Franklin, Jackson, Perry, Randolph, & Williamson counties

618-687-1727

Elizabeth Wahle, Bond, Clinton, Jefferson, Marion, Madison, Monroe, St Clair, and Washington counties

618-344-4230

Horticulture Research-Extension Specialists at our Research Stations

Jeff Kindhart, Dixon Springs Agricultural Center

618-695-2770
618-638-7799 (cell)

Shelby Henning, St. Charles Horticulture Research Center

630-584-7254

Campus-based  Extension Specialists

Mohammad Babadoost, Plant Pathology

217-333-1523

Mosbah Kushad, Fruit & Vegetable Production

217-244-5691

John Masiunas, Weed Science

217-244-4469

Chuck Voigt, Vegetable Production (& herbs)

217-333-1969

Rick Weinzierl, Entomology

217-244-2126