Address any questions or comments regarding this newsletter to the individual authors listed after each article or to its editors, Nathan Johanning, 618-687-1727, njohann@illinois.edu or Bronwyn Aly 618-382-2662, baly@illinois.edu. The Illinois Fruit and Vegetable News is available on the web at: http://ipm.illinois.edu/ifvn/. To receive email notification of new postings of this newsletter, contact Nathan Johanning at the phone number or email address above.
---
In This Issue:
Upcoming Programs (listings for beginning and established growers)
News & Announcements (Southern Illinois Fruit & Vegetable Field Day)
Regional Reports (Metro east, and southern Illinois)
Fruit and Vegetable Production and Pest Management (Phytophthora Blight of Cucurbits, Downy Mildew of Basil, Pumpkin Disease Management, 2017 A Year for Poor Fruit Set & Japanese Beetles, Hops Highlight: Insect & Disease Management, Squash Viner Borer and Squash Bug)
University of Illinois Extension educators and specialists in fruit and vegetable production and pest management
---
Check the Illinois SARE calendar for a full list of programs and links for registration.
http://illinoissare.org/ and http://illinoissare.org/calendar.php
Also see the University of Illinois Extension Local Food Systems and Small Farms Team's website at:
http://web.extension.illinois.edu/smallfarm/ and the calendar of events at http://web.extension.illinois.edu/units/calendar.cfm?UnitID=629.
Winemaking Fundamentals Symposium, Tuesday, August 1, 2017 10 AM – 5PM.  Trutter Center, Lincoln Land Community College, Springfield IL. IGGVA Enologist Bradley Beam, along with Scott Laboratories resident expert Michael Jones, SIU Fermentation Science Institute professor Dr. Katherine Witrick, and Bauerhaus Marketing guru Rebecca Ritz will collectively guide you through some of the most important aspects of high-quality wine production, from crush to the sales floor.  This course is intended for anyone with a desire to improve their wines, from the inexperienced hobbyist to commercial producers looking to brush up on the basics.RSVP by July 26th to Bradley Beam at brad@illinoiswine.com.  Cost: $50 for IGGVA members, $85 for non-members. For more information on IGGVA membership: https://illinoiswine.com/membership/
Southern Illinois Fruit & Vegetable Field Day, Monday, August 7, 2017, 4 p.m.  Jackson County Extension Office, 402 Ava Rd. Murphysboro, IL  62966.  Field Day topics and field trials include cover crops, pepper variety trials, ornamental corn variety trial, small fruit production, spotted wing drosophila management, high tunnel production, wildlife management and more.  The field day will conclude with a locally sourced "farm to table" dinner from product from our research trials and local growers. Preregistration is required and there is a cost of $10 per person for the program which includes the meal.  To register visit https://go.illinois.edu/fruitvegfieldday or call the Jackson County Extension Office at 618-687-1727 no later than Monday July, 31, 2017.  For more information contact Nathan Johanning at njohann@illinois.edu or 618-687-1727.
2017 Southern Illinois Summer Twilight Series.  Join University of Illinois Extension as they team up with area farmers to provide four monthly evening meetings to highlight and demonstrate diverse farming enterprises across southern Illinois.  Growers and extension educators will provide information on the following topics: u-pick lavender production, growing fruits and vegetables within city limits, fresh cut flower production, mushroom production, and utilizing farmers markets, roadside stands, and CSA's to market products.  We will also explore the impacts and importance of buying local to our local farms as they help to support a stronger, more sustainable, regional economy.  Meetings will begin at 6 p.m. at the following locations:
August 14, 2017

Flyway Family Farm, Makanda, IL
• Mushroom Production
Vegetable Field Day, Thursday, August 17, 2017, 1:30 – 3:00 p.m.  U of I Vegetable Crops Research Farm, 2921 S First St. Champaign, IL  61822.  For more information contact Mohammad Babadoost at 217-333-1523 or babadoos@illinois.edu.
Midwest Mechanical Weed Control Field Day, Tuesday, September 26, 2017, 10 a.m.- 5 p.m.  Michigan State University Horticulture Farm, 3291 College Rd, Holt, MI.  From finger weeders to flex-tines to Allis G's and beyond, come learn the principles and tools for precise mechanical weed control from farmers and researchers. New weeding machines are recently available from Europe and many types and models of mechanical weeders will be on display and demonstrated in the field. You will hear from farmers using these tools, learn about cultivation techniques in Europe, see tools demonstrated, and enjoy lunch and time to speak with all the growers in attendance.  Register online at Midwest Mechanical Weed Control Field Day, or contact Sam Hitchcock Tilton at 414-213-5337 or hitchc32@msu.edu
---
Southern Illinois Fruit & Vegetable Field Day - August 7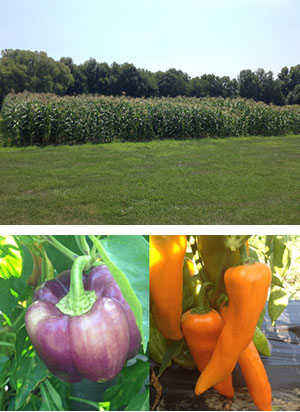 Ornamental Corn Variety Trial (top)
and Bell (bottom left) and Sweet
(bottom right) Peppers from variety
trials. Photos: N. Johanning
The University of Illinois Extension is hosting the Southern Illinois Fruit and Vegetable Field Day on Monday, August 7, 2017 at 4 p.m. at the Jackson County Extension Office, 402 Ava Rd., Murphysboro, IL.  This program will be showcasing the research and demonstration trials at the Jackson County Extension Office, along with a variety of presentations from Extension Educators, Bronwyn Aly, Elizabeth Wahle, Dave Shiley, and myself covering various issues in fruit and vegetable production and pest management.  This program is tailored to not only experienced growers, but also, those interested or just getting started in fruit and vegetable production. 
Field day topics will include:
Ornamental Corn Variety Selection
Bell Pepper and Sweet Snacking Pepper Variety Trials
High Tunnel Production
Small Fruit Production 
Summer Cover Crops
Wildlife Management:  Dueling the Deer and more!
The field day will conclude with a locally sourced "farm to table" dinner from produce from our research trials and local growers.
Preregistration is required and there is a cost of $10 per person for the program which includes the meal.  To register visit https://go.illinois.edu/fruitvegfieldday or call the Jackson County Extension Office at 618-687-1727 no later than Monday July, 31, 2017. 
Nathan Johanning (618-687-1727; njohann@illinois.edu)
---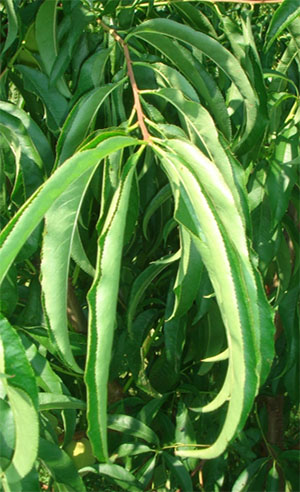 Drought Stressed Peach Leaves. Photo: E. Wahle
From the St. Louis Metro East... The region received much needed rain over the past weekend, though not enough to offset the current week of 100°F heat.  It is not uncommon to see leaf response due from heat and drought anywhere from leaf folding to early leaf abscission.  And though it is miserable to be out working in the heat, much of the harvested crop is coming in as excellent in quality.  Peaches and blackberry harvest is moving into mid-season, and sweet corn and tomatoes are fully in to main season harvest.  Garlic has been harvested and is curing, as well as onions.
Grape growers are currently adjusting final crop load on vines based on vine vigor and skirting where necessary.  The horseradish crop is progressing well; crews can be seen removing weeds the tillage pass missed.
Elizabeth Wahle (618-344-4230; wahle@illinois.edu)
From southern Illinois... Well it is definitely summer!  We are in the midst of a heat wave here in southern Illinois that has had temperatures in the upper 90s all this week and the humidity to go with it.  Fortunately, many in this region have gotten some rain either the end of last week or first of this week.  At my office in Murphysboro, we had 0.9" the end of last week and caught a random pop-up storm Monday afternoon that gave another 0.8".  I have heard similar reports of about 0.5 to 1"+ over this time, but still some have, unfortunately, missed the showers and are very dry.  Before these showers mid last week, I traveled up to Belleville and noted some extremely dry areas along and south of I-64.  Our next chance of storms comes over the weekend and also, with it a "cool down" to around 90 for highs.
Out in the orchard we are now into Contender, Loring, and Bounty peaches with everything still running 1-2 weeks ahead of schedule.  So far with over all dry conditions, brown rot has not been nearly as bad this year as it has in the past few years when we had a very wet July.  Blueberries are almost completely done.  Blueberries did very well this year, but make sure to keep them well mulched and watered the rest of the growing season to promote good growth and bud set for next year's crop.  We are on the later blackberries like Chester, and at my office we just picked the last of the Kiowa today.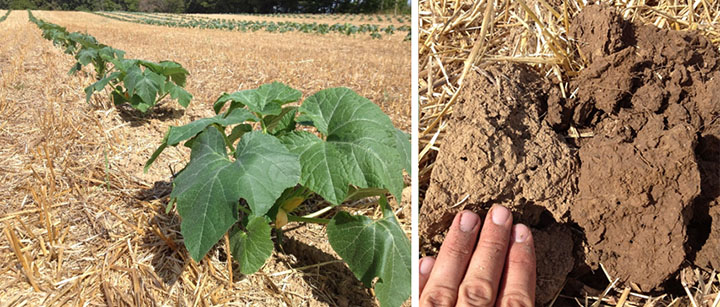 Pumpkin plants about 18 days after transplant (left). On the right is comparison of soil moisture from disturbed soil (left) and no-till (right) after limited rainfall. Photos: N. Johanning
For all crops be vigilant of stink bugs.  We have seen damage from stink bugs at my office on peppers and tomatoes amongst many other crops.  When scouting, remember that stink bugs like to fall to the ground when you start to sift through the foliage looking for them.  So one way to scout is to use a cardboard flat, trash can lid, or some "tray like" object to hold under the plant canopy, and then take your hand or a stick and tap the plants.  With any luck you will catch the stink bugs, if you have them.  Also, I have had multiple reports of whitefly and aphid on field tomatoes.  Generally, we see these pests more on high tunnel tomatoes, but given the dry weather we had they were appearing in the field as well.  For management options for these pests consult the 2017 Midwest Vegetable Production Guide or the 2017 Midwest Fruit Pest Management Guide. 
In the field, most vegetable crops are doing well.  Last week especially, we had many sunny, hot, dry, and windy days which really took the moisture out of the soil and plants.  For plasticulture plantings, the water was running a lot to keep the plants with adequate moisture. Pumpkins are off and growing and there are some male flowers just starting to show up on some plants.  Above is an updated picture of those transplants I talked about in the last issue.  At the time of this picture, they have only had about 0.3" of rain since transplanting.  Since then, they have gotten some more rain and grown.  I have not seen any major disease or insect issues, but have heard of growers with both cucumber beetles and squash bug issues so make sure to be scouting accordingly. 
I transplanted (no-till in wheat stubble) some late plants that same day (late last week) as the pumpkin picture was taken and I was amazed at how much moisture was in the soil. We hadn't gotten more than 0.3" rain in the last month prior to this and had many hot, drying days in the 90s. In the picture (above & right), my hand is on a dry clod that was thrown out from earlier planting and on the right is the soil about 3/4" and deeper that came up as we ran the transplanter through. I was expecting it to be quite dry.  Why not?  My logic is late in the season the wheat is not taking up any moisture, but does shade the ground, thus holding moisture.  It has been sprayed so there are not plants (weeds) taking up moisture.  It has not been disturbed and the residue is providing some shading.  All together, all of these factors are preserving moisture and preventing/reducing any evaporation or plant uptake.  So in the end, when you are cultivating or preparing a field remember in times of limited moisture, consider how much moisture might be lost when the soil is disturbed.  We all know there are times we are counting on every drop of water in the soil to get our plants through to the next rain.
Nathan Johanning (618-687-1727; njohann@illinois.edu)
---
Phytophthora Blight of Cucurbits
After heavy rainfall of Tuesday (July 11th) in some parts of Illinois, we may experience substantial Phytophthora infection in cucurbit fields. I recommend the following for the management of Phytophthora blight of pumpkins is:
Spray plants at 7-day intervals with Orondis Opti + a copper alternated with Revus + a copper.
New label of premixed Odondis Opti can be found at the following link: http://www.syngenta-us.com/current-label/orondis-opti-premix.
If Orondis Opti is not available, consider the following:
Spray plants at 7-day intervals with Revus + a copper alternated with Ranman + a copper.
Plants should be sprayed immediately.
Mohammad Babadoost (217-333-1523; babadoos@illinois.edu)
Downy Mildew of Basil
July 19, downy mildew of basil was detected in an organically-producing field. If the condition is wet, the disease will be all over the state soon. Three registered fungicides (Quadris, Revus, and Ranman) are very effective for control of downy mildew of basil and they should be spray-applied at 7-day intervals at the first sign of the disease in the field. For more information and a Fact Sheet on this disease visit http://extension.cropsciences.illinois.edu/fruitveg/pdfs/1216.pdf .
Mohammad Babadoost (217-333-1523; babadoos@illinois.edu)
Pumpkin Disease Management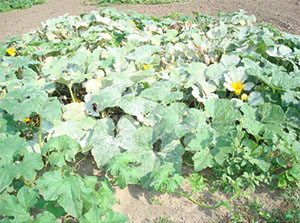 Powdery Mildew on Pumpkins. Photo: E. Wahle
Now is the time to step up scouting on diseases in pumpkin fields.  Remember that most of our fungicides are protectants and we need coverage before we have a major disease outbreak.
For powdery mildew, scout the underside of leaves and the stems as this is where it generally shows up first.  At the moment, we have not had any reports of downy mildew on cucurbit crops so far, but stay tuned as we will let you know if it is confirmed in IL on cucurbits.
For the most up to date, research-based fungicide recommendations, visit the 2017 Pumpkin Fungicide Recommendations.  These are the most recent updates from the research of Dr. Mohammad Babadoost, U of I Plant Pathologist on spray programs for disease management.  For more information on this factsheet or other disease issues contact Dr. Babadoost at 217-333-1523 or babadoos@illinois.edu.
Nathan Johanning (618-687-1727; njohann@illinois.edu)
2017 – A Year of Poor Fruit Set and Japanese Beetle Invasion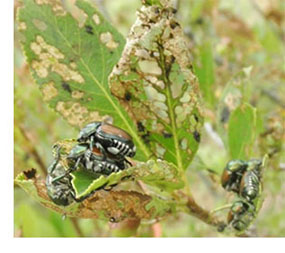 This year, a Japanese beetle (JB) epidemic has been reported in field crops in Illinois (Farmweek, 6-29-2017). The beetles are also devastating specialty crops. Huge numbers have been observed on basil, zinnia and geraniums, while a few were on pepper plants in Kankakee county. The largest population invasion yet was observed on July 13, 2017, on aronia (A. melanocarpa). There was a 100% JB infestation on more than 9,000 aronia berry bushes growing on 13 acres. Plant damage due to foliage and fruit feeding was estimated at about 40% (pictured). It may not be worth it to manage the JBs on aronia this year.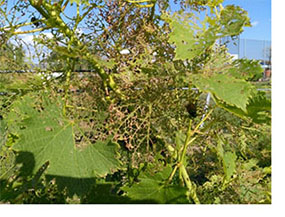 At the vineyard in Joliet Junior College, the JB infestation on grape plants was similar to that on aronia berry plants. To manage the beetles, the organic insecticide beetleJUS!® (Bacillus thuringiensis galleriae) was applied to foliage. BeetleJUS! ® is most effective when applied before Japanese beetle adults start feeding. Adult beetles are highly attracted to foliage, blossoms, and fruit previously fed upon by other Japanese beetles.
Why are the numbers so high this year? University of Illinois entomologist Kelly Estes (coordinator of the Illinois Cooperative Ag Pest Survey) attributes this JB outbreak in part to the 2016/17 mild winter (which increased survival rates of some bugs), and greater migratory numbers during last spring. Japanese beetle adults are such active fliers that controlling their larvae, white grubs, in local turf areas has little effect on the number of adults on attractive plants. Individuals typically fly three-fourths to one-and-one-half miles every three days. Over their adult life of several weeks, Japanese beetles may end up 15 miles from where they started.
JBs are not the only bad thing happening to berry fruits this year. Fruit set on berry plants is at an all-time low. On aronia plants, the berries are few and poorly formed. Instead of growing into normal plump sizes and turning a nice purple, most of the berries are smaller and turning brown. It is going to be a total loss this year. It is almost a similar situation with blueberries; an organic patch has barely 20% of its normal berry production, despite the vigorous foliage. The alternating warm and cold temperatures earlier in the year killed most of the flowers.
Also appearing in unusually larger numbers are June Green Beetles (Cotinus nitida). Though primarily a pest of turf grass, they have been spotted on vegetables and fruit trees. Management of these beetles is basically similar to that of Japanese beetles (they have similar life cycles).
A review article on Japanese beetles by Rick Weinzierl is available in Illinois Fruit & Vegetable News of 6-21-2004 here: https://ipm.illinois.edu/ifvn/volume10/frveg1010.html and management options by Rufus Isaacs (Michigan State University, 2011) here: http://msue.anr.msu.edu/news/managing_japanese_beetles_in_fruit_crops
James Theuri (815-933-8337; jtheu50@illinois.edu)
Hops Highlight: Insect & Disease Management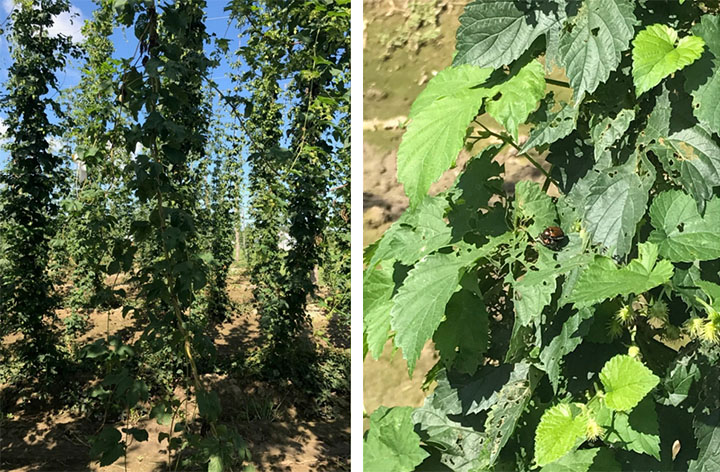 Photos: G. McCarty
In continuation of discussion on hops production, we have reached a point where I need to talk about insect and disease problems on this crop. Pest management is crucial for good yields on the hop plant. With the height of these bines, proper application and timing of pesticides must be factored in.
Powdery and downy mildew are the major problems on hops. Both of these can spread to cones and the rhizome. If mildews spread to the rhizome, there is a possibility that this could kill the rhizome itself. Preventative fungicides are crucial to managing these before it is too late. Keep plant material dry is another strategy for control. This season, I have seen downy mildew so far on the hop plant. Some hop growers will remove the 1-2 feet of lower leaf area to help the bines dry out. There are also plant viruses that a hop plant will occasionally have.
Insect challenges include potato leaf hopper, spider mites, Japanese beetles, and aphids. Potato leaf hopper will cause what is commonly called hopper burn, a browning discoloration on the edge of the hop leaf. I have seen a lot of hopper burn this season. Spider mite damage is pretty common as well. Insect pests will target cones and leaf tissue. Sooty mold and insect damage on the cones will result in them not being used in the brewing process and they should not be sold to the brewers in your area. There are many IPM practices that can be put into place that may control some of these pests along with miticides and other pesticides that should be adopted depending on the level of insect pest severity.
Grant McCarty (815-235-4125; gmccarty@illinois.edu)
Squash Vine Borer and Squash Bug Management
As Squash Bug has taken over one of the raised beds in our White County 4-H GIFT Garden (southeastern Illinois), I thought this might be a good time for a reminder to growers about both Squash Viner Borer and Squash Bug.  Below is an article from a few years ago by Dr. Weinzierl explaining identification, life cycle, and management for each of these bothersome creatures.  Growers are encouraged to monitor for these pests as Squash Bug can persist from June through October, and Squash Vine Borer can have a second generation in southern Illinois, continuing to be a problem for late season squash and pumpkins.
The squash vine borer tunnels in the vines of pumpkins and summer and winter squash; it rarely is found in cucumbers or melons and cannot complete its development except in squash or pumpkins. 
Identification.  The squash vine borer adult is a black and reddish moth called a clearwing moth because large portions of its hind wings lack scales.  These moths are ¾- to 1-inch long, with a 1- to 1 ½-inch wing span.  They are active during the daytime and superficially resemble wasps as they fly about.  Larvae are yellowish-white with a brown head, 3 pairs of thoracic legs, and 5 pairs of fleshy abdominal prolegs that bear tiny hooks called crochets.  Fully-grown larvae are about 1 inch long.  Brownish pupae are slightly less than 1 inch long, and they are found in the soil inside a dark, silken cocoon.
Life Cycle.   Squash vine borers overwinter as mature larvae or pupae within cocoons 1 ½ to 3 inches below the soil surface.  Moths emerge and begin to mate and lay eggs in June and July in much of the Midwest (earlier, beginning in May, in southern Illinois and similar latitudes).  Moths lay eggs singly at the base of plants or on stems and petioles, beginning when plants start to bloom or "run".  Larvae feed within stems or petioles for 2 to 4 weeks, leaving brown, sawdust-like frass (droppings) at holes where they entered the stem. In southern Illinois these pupate and produce a second flight of moths in late summer; in the north, larvae or pupae of the first (and only) generation remain in the soil through the winter.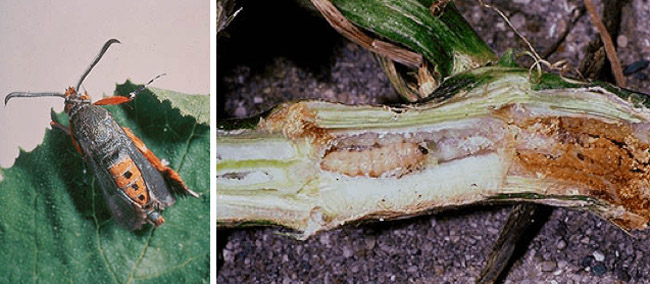 Squash vine borer adult (left) and larva (right)
Plant Injury.   Tunneling within vines destroys water- and food-conducting tissues, reducing plant vigor and yield and sometimes killing vines. 
Management.  Disking or plowing to destroy vines soon after harvest and bury or destroy overwintering cocoons reduces moth populations within a field in the spring.  Staggering plantings over several dates also allows some plantings to escape heaviest periods of egg-laying.  Early detection of moths and initial damage is essential for timing insecticide applications.  For insecticides to be effective, they must be applied before larvae enter stems or petioles.  Scout for moths (pheromone lures and traps are available for monitoring flight periods but are not consistently effective for detecting moth flight) and look for entrance holes and frass as soon as plants begin to bloom or vine.  Apply insecticides beginning 5 to7 days after moths are first detected and at weekly intervals for 3 to 5 weeks, or begin when injury is first noted and make a second application a week later.  See the 2017 Midwest Vegetable Production Guide for Commercial Growers for listings of registered insecticides. 
Squash bug infestations typically begin in late June and July in Illinois.  The squash bug, Anasa tristis (De Geer) (Hemiptera: Coreidae), is a perennial and severe pest of pumpkins and squash; it rarely injures cucumbers and melons in the Midwestern United States.
Identification.  The squash bug is a "true bug" in the order Hemiptera.  Like all adult Hemiptera, adult squash bugs have two pairs of wings, with the front wings hardened at the base and membranous at the tips.  Its mouthparts form a needle-like beak that arises from the tip of the head.  Adults are brownish black, with yellowish to red-orange markings; they appear oval shaped when viewed from above, and somewhat flattened when viewed from the side.  Females lay yellowish-white eggs in small clusters or masses on the upper and lower surfaces of leaves; the eggs quickly darken to a reddish brown color.  Eggs hatch to produce grayish-white, wingless nymphs with black legs.  The nymphs darken in color as they grow older, and wing pads (the beginnings of adult wings) begin to develop. 

Squash bug adult (above), eggs (lower left), and nymphs (lower right).
Life Cycle.  The squash bug overwinters as an adult, and survival is greatest in plant debris, mulch, and field borders or woods.  Adults become active in the spring, mate, and females begin feeding and laying eggs in June and July.  Nymphs grow to the adult stage in 5 to 6 weeks, and new females mate and begin laying eggs immediately.  Populations are greatest during hot, dry summers.  Females that reach the adult stage after late July or early August do not mate or lay eggs but instead enter an inactive stage and seek overwintering sites.  Squash bugs may be present as nymphs or adults in pumpkins and squash from June through October.
Plant Injury.  Squash bugs use piercing mouthparts to penetrate stems, leaves, and fruit and suck sap from plants.  This direct damage may cause wilting or even kill plants if populations are great enough.  Recent research has found that squash bugs transmit squash yellow vine disease; controlling squash bugs limits the spread of this disease within fields.
Management.  Early in the season when adults move into fields and feed on young plants, watch for wilting of seedlings and apply an insecticide if wilting is observed.  Scout for eggs of the squash bug on upper and lower surfaces of leaves.  If densities exceed one egg mass per plant, use insecticides for control as nymphs begin to hatch.  Insecticides labeled for use against squash bug are most effective against young nymphs, and for commercial growers who possess a Pesticide Applicator's License, the pyrethroid insecticides (particularly Brigade, Mustang Max, and Warrior) are most effective against squash bug.  Organic growers may choose to use floating row covers to exclude squash bugs from young plants, but when row covers have to come off to allow pollination, none of the insecticides approved for use in Certified Organic production systems are truly effective against squash bugs.  See the 2017 Midwest Vegetable Production Guide for Commercial Growers for listings of registered insecticides. 
Bronwyn Aly (618-382-2662; baly@illinois.edu)
---

http://pleated-jeans.com/wp-content/uploads/2012/05/3pa824.jpeg
---

University of Illinois Extension Specialists in Fruit and Vegetable Production & Pest Management
Extension Educators – Local Food Systems and Small Farms

Bronwyn Aly, Gallatin, Hamilton, Hardin, Pope, Saline, and White counties

618-382-2662

Bill Davison, Livingston, McLean, and Woodford counties

309-663-8306

Laurie George, Bond, Clinton, Jefferson, Marion, & Washington counties

618-548-1446

Zachary Grant, Cook County

708-679-6889

Doug Gucker, DeWitt, Macon, and Piatt counties

217-877-6042

Nathan Johanning, Franklin, Jackson, Perry, Randolph, & Williamson counties

618-687-1727

Grant McCarty, Jo Daviess, Stephenson, and Winnebago counties

815-235-4125

David Shiley, Coles, Cumberland, Douglas, Moultrie and Shelby counties

217-543-3755

James Theuri, Grundy, Kankakee, and Will counties

815-933-8337

Extension Educators – Horticulture

Chris Enroth, Henderson, Knox, McDonough, and Warren counties

309-837-3939

Richard Hentschel, DuPage, Kane, and Kendall counties

630-584-6166

Andrew Holsinger, Christian, Jersey, Macoupin, & Montgomery counties

217-532-3941

Extension Educators - Commercial Agriculture

Elizabeth Wahle, Fruit & Vegetable Production

618-344-4230

Campus-based  Extension Specialists

Mohammad Babadoost, Plant Pathology

217-333-1523

Mosbah Kushad, Fruit & Vegetable Production

217-244-5691