Address any questions or comments regarding this newsletter to the individual authors listed after each article or to its editors, Nathan Johanning, 618-687-1727, njohann@illinois.edu or Bronwyn Aly 618-382-2662, baly@illinois.edu. The Illinois Fruit and Vegetable News is available on the web at: http://ipm.illinois.edu/ifvn/. To receive email notification of new postings of this newsletter, contact Nathan Johanning at the phone number or email address above.
---
In This Issue:
Upcoming Programs (listings for beginning and established growers)
News & Announcements (North American Raspberry & Blackberry Association 2020 Survey on Pricing & Marketing, Updated Information on Food Safety Related Webinars, Trainings, & Resources, CFAP Program For Specialty Growers)
Regional Reports (east central Illinois, west central Illinois (Quincy), St. Louis metro east, southwestern Illinois (Waterloo), southern Illinois (Murphysboro), Dixon Springs)
Fruit & Vegetable Production & Pest Management (Modified Growing Degree Days for Insect Development (Base 50⁰ F, January 1 – June 15); Hole in Cole Crops? Probably Flea Beetles)
University of Illinois Extension educators and specialists in fruit and vegetable production and pest management
---
See the University of Illinois Extension Local Food Systems and Small Farms Team's website at:
http://web.extension.illinois.edu/smallfarm/ and the calendar of events at http://web.extension.illinois.edu/units/calendar.cfm?UnitID=629.  
Great Lakes Vegetable Producers Network – Roundtable Discussions.  Every Wednesday 12:30 ET/11:30 CT from the first week of May through the first week of September.  Great Lakes Vegetable Producer's Network, a live weekly roundtable discussion during the growing-season for commercial vegetable producers in the Great Lakes and Midwest region. Join us! We broadcast live via Zoom at every Wednesday. Check out the website for the next upcoming topics.  If you have a pressing vegetable production issue that you would like discussed, simply email it, along with your phone number, to greatlakesvegwg@gmail.com.
Pumpkin Field Day.  Thursday September 3, 2020 10:00 a.m.  SIU Belleville Research Center, 2036 Charles Ln. Belleville, IL  62221.  Variety and Pest Management trials and much more!  Save the Date! More information to come.  Contact Nathan Johanning at njohann@illinois.edu or 618-939-3434.
Advocates for Urban Agriculture hosting farm tax webinar June 24, 2020 at 3 p.m. Jan Schaffner, Manager of Tax Development with Compeer Financial, will share over a decade of experience in managing farm business taxes to webinar participants. In this webinar she will cover what
to keep track of, identifying what is making you money, Schedule F basics, income statements, labor concerns, business structures and more. Submit your questions ahead of time here:
https://forms.gle/tzVBWHzqrMXixXoY8   To register, please click here:
https://us02web.zoom.us/meeting/register/tZ0pcOygqToiGd1i-uTBGOqqTDlh79hprUuu
---
North American Raspberry & Blackberry Association 2020 Survey on Pricing & Marketing
Please help us get out the word about NARBA's 2020 survey of raspberry and blackberry pricing and marketing, and growers' changes due to COVID-19.
The more growers who participate, the better the results will be, and we'll be able to break them down regionally in the report. All responses are anonymous, and participants can request to receive a report of the results.
If growers in a given area are not yet harvesting, they can report 2019 prices or best estimates for 2020. ALL participants can request a report of the results.
The survey closes next MONDAY, June 22.
To access the survey please click here. (https://raspberryblackberry.us7.list-manage.com/track/click?u=b76b184acd4937ba263b6003e&id=b571703cd2&e=cec6bb74fb)
Actual link is https://raspberryblackberry.us7.list-manage.com/track/click?u=b76b184acd4937ba263b6003e&id=189b41e505&e=cec6bb74fb.
Thank you for your help. With so much distancing required this extraordinary year, this is one way we can try to bridge those distances!
NARBA is conducting this survey in collaboration with researchers at North Carolina State University and the University of Arkansas..We very much appreciate their help with the data collection and analysis. If you have any questions about the survey itself, please contact Dr. Daniel Tregeagle by email at tregeagle@ncsu.edu or by phone at 919-515-6091. In addition, you can contact the NC State IRB Office via email at irb-director@ncsu.edu or via phone at 919-515-8754. You may also contact NARBA by email at info@raspberryblackberry.com, or by phone at 919-542-4037.
Updated Information on Food Safety Related Webinars, Trainings, & Resources
An Introduction to the Produce Safety Rule Coverage & Exemptions Tuesday, June 23, 2020 – 3 to 5pm (Central time) This webinar is specifically for farmers who grow, harvest or pack fresh produce. This webinar will discuss how the new Federal produce safety laws may affect your farm, the steps you need to take now, and where to go for more information. Register online. Sponsored by Kansas State University and University of Missouri  
https://www.eventbrite.com/e/introduction-to-the-fsma-produce-safety-rule-coverage-exemptions-online-tickets-105283351338
What to Do if You Have COVID-19 Confirmed Positive or Exposed Workers in Your Food Production, Storage, or Distribution Operations Regulated by FDA
https://www.fda.gov/food/food-safety-during-emergencies/what-do-if-you-have-covid-19-confirmed-positive-or-exposed-workers-your-food-production-storage-or
The CDC has released the Agricultural Employer Checklist for Creating a COVID-19 Assessment and Control Plan. This document is a companion piece to the recently released guidance for Agriculture Workers and Employers. Agricultural employers can use this checklist to create a COVID-19 assessment and control plan for applying specific preparation, prevention, and management measures to prevent and slow the spread of COVID-19. The checklist is divided into five sections: assessment, control plan, shared housing, transportation, and children. You can find the checklist here:  https://www.cdc.gov/coronavirus/2019-ncov/community/pdf/Agricultural-Employer-checklist.pdf
In late May, the FDA announced flexibility in the eligibility criteria for the qualified exemption from the Standards for the Growing, Harvesting, Packing, and Holding of Produce for Human Consumption (Produce Safety Rule) (21 CFR Part 112) due to disruptions to the supply chain for the duration of the COVID-19 public health emergency.
https://www.fda.gov/food/cfsan-constituent-updates/fda-provides-flexibility-farms-regarding-eligibility-qualified-exemption-under-produce-safety-rule
The Produce Safety Alliance (PSA) is temporarily allowing remote delivery of PSA Grower Training Courses during the COVID-19 pandemic. This policy will be in effect until September 30, 2020, with the potential for extending this date pending updates on the pandemic. PSA will rigorously review course evaluations under this temporary policy. Information on these courses can be found at:   https://producesafetyalliance.cornell.edu/training/grower-training-courses/
Online delivery course is a three-week course that can be completed at your own pace. The online course is expected to take 15-30 hours for successful completion. 
Remote delivery course is a course led in real time by instructors delivered with video conferencing software, such as Zoom or Webex. This is a temporary option that is being supported during the COVID-19 outbreak.
Upcoming Grower Training Courses (online and remote): 
https://producesafetyalliance.cornell.edu/training/grower-training-courses/upcoming-grower-trainings/
University of Illinois COVID-19 Resources for Food Producers
https://extension.illinois.edu/global/resources-food-producers
CFAP Program For Specialty Growers
Deadline:  August 28, 2020.  The Coronavirus Food Assistance Program, or CFAP, provides vital financial assistance to producers of agricultural commodities who have suffered a five-percent-or-greater price decline or who had losses due to market supply chain disruptions due to COVID-19 and face additional significant market costs. Eligible commodities include:
Non-specialty Crops: malting barley, canola, corn, upland cotton, millet, oats, soybeans, sorghum, sunflowers, durum wheat, and hard red spring wheat
Wool
Livestock: cattle, hogs, and sheep (lambs and yearlings only) Dairy
Specialty Crops - Fruits: apples, avocados, blueberries, cantaloupe, grapefruit, kiwifruit, lemons, oranges, papaya, peaches, pears, raspberries, strawberries, tangerines, tomatoes, watermelons - Vegetables: artichokes, asparagus, broccoli, cabbage, carrots, cauliflower, celery, sweet corn, cucumbers, eggplant, garlic, iceberg lettuce, romaine lettuce, dry onions, green onions, peppers, potatoes, rhubarb, spinach, squash, sweet potatoes, taro - Nuts: almonds, pecans, walnuts - Other: beans, mushrooms
Frequently Asked Questions concerning CFAP:   https://www.farmers.gov/cfap/faq
Educational Webinars for farmers and producers on CFAP from USDA:  https://www.fsa.usda.gov/programs-and-services/outreach-and-education/webinars/index?utm_medium=email&utm_source=govdelivery
---
From east central Illinois (Champaign)… Cristobal. Too much rain where it hit and not enough everywhere else. Champaign area saw between 3 and 5 inches of rain while most areas to the North and East saw less than 1 inch. That was the last rain anyone has seen, and for most of the East Central Illinois region, the rain we were hoping for this weekend seems to be fading from the forecast. In addition to the weather, the flea beetles are out in force eating away the brassica crops and the potato beetle larvae are eating, well, the potatoes.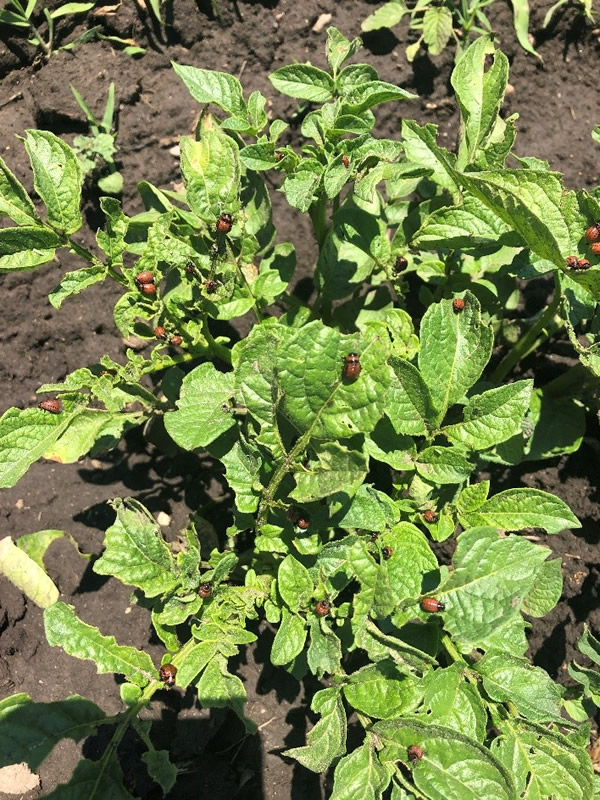 Photos clockwise starting at top left: potato beetle larva feeding; peaches; apples; black raspberries; blueberries all in various stages of development from the Champaign area. Photos by E. Harper.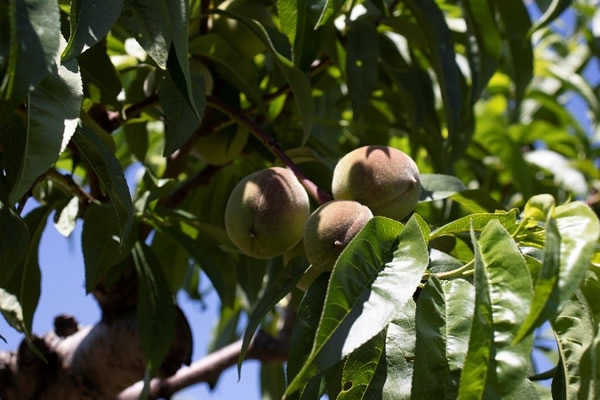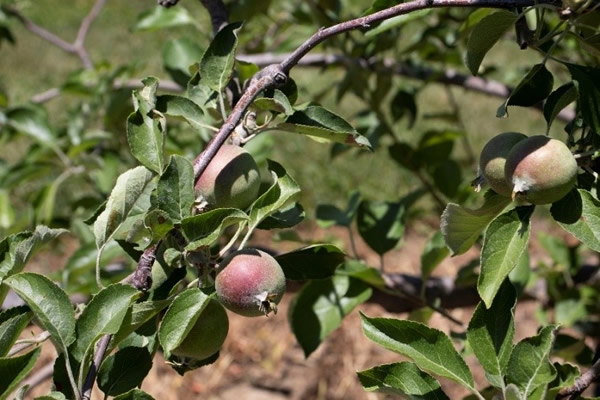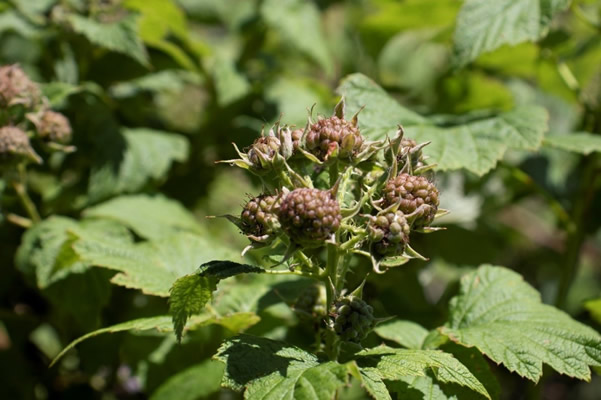 The berry crops are all coming along nicely. Strawberries are in full swing as are Service berries or June berries.  White currants should be ready early next week and others not too far behind. High tunnel cherry tomatoes will also be along next week. Some of the local farms have high tunnel cucumbers, squash, and zucchini going to their CSA customers this week and will have plenty to sell at markets next week.
Erin Harper (217-300-2876; harper7@illinois.edu)
From west central Illinois (Quincy)… We ended our strawberry season on Monday, June 8th. It was a short season, about 2 weeks long, characterized by some very hot temperatures during picking, which were a big reason why the season was so short. This was our 25th year of raising strawberries, and our last. This was the crop that we started out our farm with, and it's with mixed feelings that we made the decision to quit. But it will free up a large amount of time during the spring, when we're doing so many other things as well. Hearing from other backyard growers about how their strawberries are yielding and they're talking about how many berries are being picked. It must be a good year.
We managed to get the pumpkins planted June 6-8 (although the 110-120 days we planted two weeks prior) then fertilized and herbicides applied before the 1" rain that fell on the 9th, incorporating both. We couldn't have timed it any better, and emergence of the first planted occurred in a week.
Asparagus season was a great one, with picking lasting a little over 5 weeks. Yields were up a little, and weed control was quite good. I mentioned earlier that we've seen a good increase in traffic to the farm stand, I think due to the virus which allowed more to remember the art of home cooking. I'm hoping that trend continues throughout the year. I did make an application of Gramoxone plus a residual after we completed the last picking. I was reminded about lowering the rate of Gramoxone during hot weather as I used a 2 pint per acre rate, which with the heat, destroyed a large percentage of existing asparagus stalk at the time of application. But since Gramoxone is not systemic, the only loss was the above ground stalk.
We're picking the last of our head lettuce from the tunnels, along with broccoli and a little cauliflower from outside raised on black plastic. Kale has been coming in for two weeks and the cabbage is about ½ size. We're picking a few early tomatoes from the tunnels, but not enough to open up yet, and the peppers are sizing well, both inside and outside.
I think we're about a week away from tassel on the earliest planted sweet corn. The plants aren't very tall, so we may be bending over to shuck them, LOL.
On a bit of a different note, our younger son, Wilson, was exploring the archives of local newspapers from 100 years ago, and found some interesting facts about early strawberry growing in the Quincy area. I'm not sure how this might fit into the newsletter, but I'm including it as it is an interesting read about local history, and how important the crop was to the Quincy area. When we first opened up, we had a lot of U-picks, we heard about all the berry farms that were here, but sure didn't realize how many there were until Wilson found this info. We were the last farm that raised berries commercially in Quincy.
June 1924 Quincy IL
The following stories were taken from past issues of local newspapers from Quincy, Illinois and the surrounding area (accessible at the Quincy Public Library and online at https://www.quincylibrary.org/newspaper-archive/ ).
In the Spring of 1924 Quincy may have reached the height of its strawberry producing days. By the end of the three week strawberry picking season sixty-four refrigerated train car loads of Quincy-raised strawberries departed the Gem City. Each of these 64 train cars contained an average of 420 crates with each crate carrying 16 quarts of strawberries. A back of the envelope (phone) calculation puts Quincy strawberry production to be around half a million quarts in a single year. This accounts for only those berries SHIPPED OUT of Quincy to the great canneries and markets to the North, to say nothing about local production and consumption. This glut of strawberries netted Quincy ~$97,000 5 years before the start of the Great Depression.
It seems as though Quincy's great strawberry days have since passed on. Like much of its agricultural heritage, the backyard gardens and the old "Cowtown" is going by the way side with small sections of revivals sprouting up here and there. This is mostly positive; an indication of progress, an increase in local skilled labor, and (if you've ever picked strawberries you know what I mean) downright convenience winning the day. However, the feelings are bitter sweet.
Quincy and Nauvoo papers from the 1890's to the 1920's suggest over 1,000 pickers working the fields in the Quincy area alone and boats of workers filing up and down the Mississippi to follow the harvest. The search for seasonal workers can be just as difficult now as it was 130 years ago.
The good news is, much of Quincy remains fertile ground. Locations of strawberry plots in Quincy's heyday are likely in your backyard. The Whig recorded strawberry plots 100 years ago existing on such through streets as 12th, 18th, and 24th to name a few. Even the Vet's home had 70 acres of tilled fields, with their ½ an acre of strawberries yielding almost 6,000 quarts in the bumper year of 1924. So while one era is ending, we encourage you to begin another!
Keep America beautiful: grow a garden, go on a walk, talk to your neighbors.
Mike Roegge, Retired Extension Educator & Mill Creek Farms (roeggem@illinois.edu)
From the St. Louis Metro east… Tropical Storm Cristobal failed to bring much needed rain to the region, which hasn't received any measurable rain since shortly after Memorial Day.  The first week of June saw temperatures well into the 90's with not a cloud in the sky, making outdoor work that much more challenging.   And though Cristobal didn't bring any rain, he did bring temperatures down significantly the second week of June, before another warming trend pushed through.  Temperatures are predicted to remain in the low 90's with no guarantee of rain in the 10-day forecast. 
The sun and heat are not only hard on workers, it can be hard on certain fruits as well.  Apple fruit, for example, has a higher thermal mass than adjacent leaves, which means they are better at absorbing and storing heat energy, but not as effective in dissipating that heat when needed, which results in various types of sunburn damage to the fruit.  Some cultivars are particularly prone to sunburn, like Honeycrisp.  One strategy growers have been using to reduce sunburn is a sprayable protectant, including options for organic growers.  Washington State University has a nice review of sprayable protection options at http://cpg.treefruit.wsu.edu/environmental-fruit-protectants/apple-sunburn/.  Research also suggests targeted sprays can be limited to areas of the block most prone to sunburn to keep costs down, like just treating the west side of the row in a north south orchard orientation.
Strawberries are finished, as well as asparagus.  Currently in harvest are high tunnel cherry tomatoes, greens, beets, turnips and spring onions.  Early peaches like PF-5 and Desiree should hopefully be in harvest in the next 7 to 10 days, as well as Lodi apple.  Locally, sweet corn is tasseling and green beans are sizing, both in time for early July sales.  Sweet potatoes have been planted, and many growers are just waiting for a little rain to seed pumpkins and corn trails/mazes.  Still a few weeks out from harvest are field grown main season tomatoes, peppers, eggplant, cucumbers and zucchini.
Do a good job with your pre-emergent herbicide choices when planting pumpkins, because there are very limited options for post emergent weed control.  Consider tank mixing Dual Magnum (indeminified label for over-the row application in pumpkins) + Reflex (indemnified label for pumpkins) + Sandea.  This tank mix gives you a good weed spectrum and utilizes three sites of action.  Apply after seeding but before pumpkin emergence.  Remember though, the only option for any broadleaf control is a postemergent over-the-top-broadcast spray is Sandea, so plan ahead on how much you use pre-emergent.  If you go the full rate pre-emergent, you don't have the option to make a postemergent application.  Sandea is limited to 1 oz per season; which allows you two applications (one pre and one post) at ½ oz each, or a single application at ¾ oz.  You must have in your possession the indemnified label for Dual Magnum if you apply it over the seed row and/or if you are using Reflex, which both can be accessed through the following site https://www.syngenta-us.com/labels/indemnified-label-search
Elizabeth Wahle (618-344-4230; wahle@illinois.edu)
From southwestern Illinois (Waterloo)… Hot and dry in the area!  Since the rain stopped the last days of May, it really stopped.  Since May 29th we have only had 0.18" of rain and temperatures in the 80s and 90s.  Fortunately, most of this week we have had a break in the humidity with really nice conditions and temperatures and the humidity are slowly creeping up by the end of the week with highs in the 90s and some chances of scattered storms.
Cover Crop/Production System trial at Urbana (above). No-till Transplanting into Cereal rye (right) Photos: N. Johanning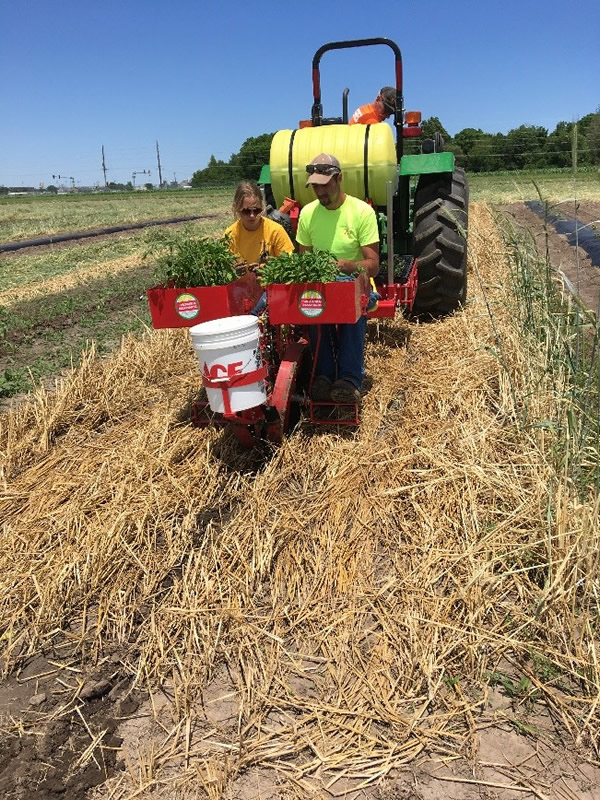 With the break in the weather we finally planted our cover crop/no-till trials on tomatoes and peppers.  We have plots comparing different production systems (bareground, plasticulture, no-till) with and without a cereal rye cover crop.  This trial is conducted just south of Waterloo and then in Urbana on the University Farms.  We planted the Waterloo trial June 3 and Urbana June 8.  Like many we had just made it through the cold snaps of May 9-11 when the rains came not giving us a chance to plant until we did.  All are doing well now, however, prior to planting the transplants were struggling and larger than they needed to be.  With all of the wet they endured while in trays we did get some disease in the transplants, causing lesions to form near the base of the plant and then girdle the plant.  We were able to cull diseased plants and make some fungicide applications to prevent any major spread.  While we do not have a positive confirmation, the symptoms looked very similar to some cases of bacterial canker I have seen in the past.  Everything is looking pretty good now and our tomatoes at Waterloo are pruned and will be tied for the first time next week.  I'll continue to update you as the time progresses on the project.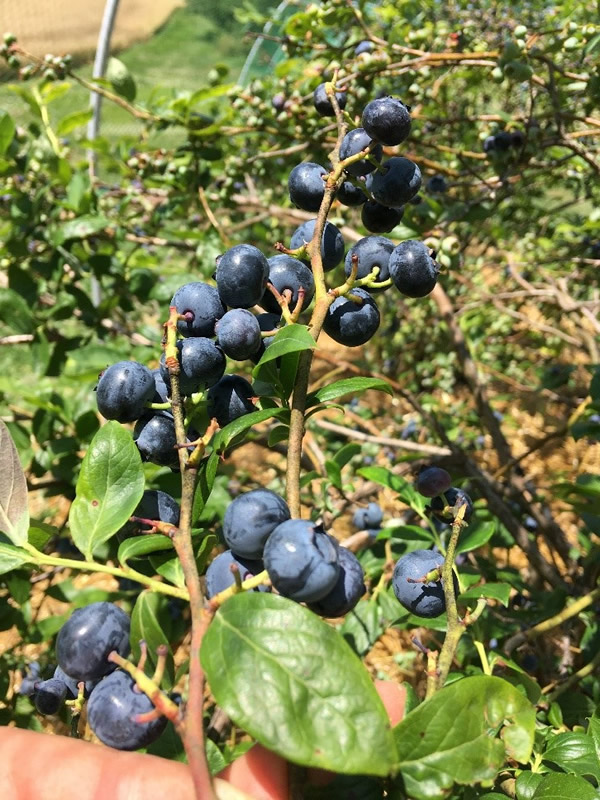 Out in the field, many crops really do need some moisture.  After the rain stopped I hilled and cultivated potatoes and they have barely had enough rain to settle the hills, but enough to germinate a few weeds.  Most crops overall look good especially if they are irrigated.  The sun, heat have really pushed growth where moisture is available.  Black raspberries and blueberries are coming in.  Duke, Earliblue, Blueray, are in full harvest with Blue gold and Bluecrop just starting.  Other fruit crops are growing and progressing well.
Pumpkin planting is well underway.  I have transplants started and growing for our pumpkin research trials and also my own personal farm.  Hopefully withing the next two weeks they will all get in the ground.   I have almost lost count of the varieties we have in our variety trial for Pumpkin Field Day… I think it's around 82!?!  I have mentioned many pumpkin resources from time to time, especially on herbicides.  Feel free to reach out to me if you have any specific questions.  Here's to a good pumpkin season!
Duke Blueberries in full harvest in Monroe Co.   (right). Photo: N. Johanning
Nathan Johanning (618-939-3434; njohann@illinois.edu)
From southern Illinois (Murphysboro)… Its officially starting to feel like summer here in Southern Illinois, with temperatures reaching the 90's towards the end of this week. Asparagus harvest is over for the season at the Jackson County office. The tomatoes planted on May 19th have been growing like crazy, and last week they were staked and weaved. The drip tape was cut and attached to blue line hose at the beginning of each plot, to allow for each plot to be fertigated separately. The tomatoes in the field have been irrigated several times over the last two weeks, because of the lack of rain.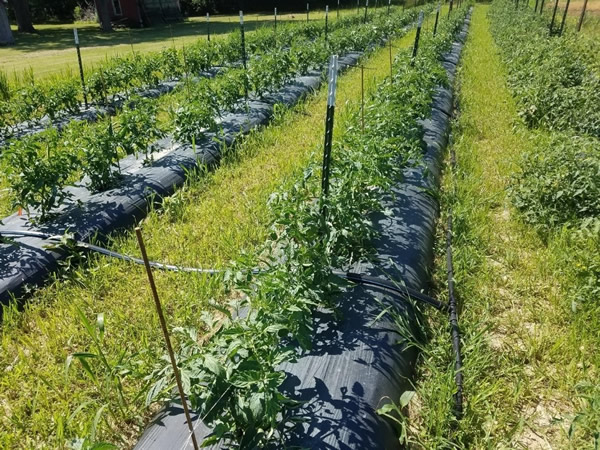 The high tunnel was covered with the shade cloth at the end of May. Cucumbers and tomatoes are starting to put on fruit. I harvested the first jalapenos and banana peppers.  The tomatoes and cucumbers were trained to a single leader, and the suckers pruned off.
Overall things are going well here in Jackson County, and we are gearing up for a great summer!
Tomato fertility trial planted at the Jackson County Extension Office. Photo by K. Bell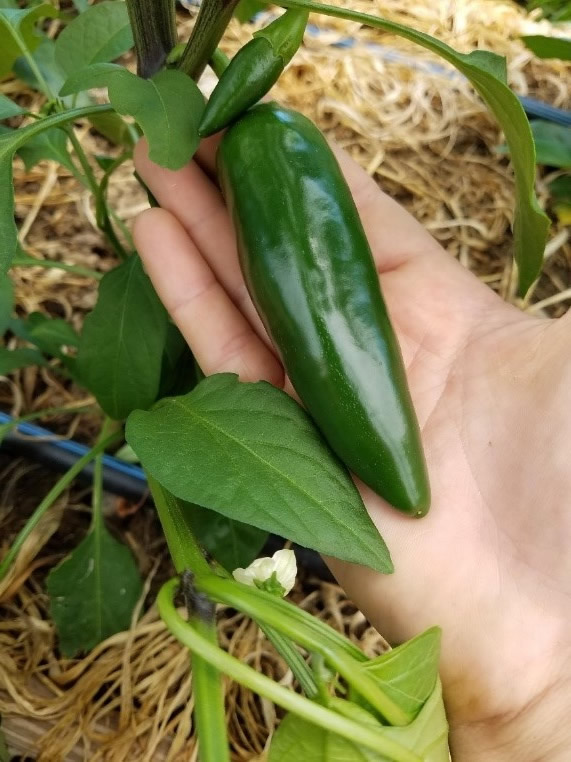 High tunnel cucumbers and jalapenos growing at the Jackson County Extension Office. Photos by K. Bell.
Katie Bell, Extension Intern, Dixon Springs & SIU Agribusiness Economics Graduate Student (klbell@illinois.edu)
From Dixon Springs Ag Center…I certainly hope everyone has been able to enjoy the perfectly pleasant, low humidity days this past week. Imagine how much more productive we would all feel if this was the typical Midwest climate in the summers! Based on the upcoming forecast, we should be getting back to the good old double 90s – 90 degrees and 90% humidity. Just after the last newsletter came out, we stretched shade cloth over the hydroponic tunnel, which helps to drop the temperature about 10 degrees or so and makes working inside that tunnel more manageable ( this particular tunnel has fixed sidecurtains and air is only drawn through the ends with two large exhaust fans.)
Hydroponic strawberry production has picked up in the last week or so, with yields almost double what they had been two weeks prior. We continue to battle with thrips and spider mites on the strawberries, which are typically pests in protected culture growing systems. Harvest just started this week on the indeterminate slicing/beefsteak type hydroponic tomatoes, with the majority of the ripening fruit from the bottom first clusters grading out as US No 2s based on the small size ( less that 8 oz per fruit ). Some Blossom End Rot has been observed on several of the varieties and could be attributed to flucuations in plant transpiration rates as they have been reacting to the cloudy, cooler weather over the last few weeks. Harvest on the indeterminate hydroponic cherry/grape type varieties started a couple of weeks ago. One important reminder to protected culture growers is to think about pollination of the crops you are growing and how you will need to help in the pollination process. Whether it be the additon of bees or other pollinating insects, sonicators, or leaf blowers, remembering to include pollination in your production strategy will help you to realize improved yields through larger fruit size, increased fruit set, and more uniform fruit shape.
We have been harvesting the hydroponic cucumbers for a month now, and they are continuing to grow like crazy. Aphids have cropped up on many of the cucumber plants, requiring an insecticide spray to get their population knocked back down. All of the cucumber vines have been lowered once on their trellis lines and will be lowered again later this week or early next week. In the system that works best for us, two clips are used to attach each plant to the single trellis line that is hooked to rebar spanning across the bottom of the trusses within the tunnel. Once a week, when the plant has grown about 10-12" above the top clip, the bottom clip is removed and placed at the highest growing point of the vine. When the vine has grown to arms reach above our heads, both clips are removed and the whole vine is lowered, with the top of the vine being about chest high. The excess vine is layed on the ground beside each dutch bucket, and will eventually be coiled into a circle as the season progresses. Fruit from this part of the vine has already been harvested and leaves pruned off before the vine is lowered. We essentially manipulate the plant so that the fruit production area stays between knee and shoulder height, making harvest very easy.
Clockwise from top left:Hydroponic tunnel at DSAC growing cucumbers, peppers, tomatoes, strawberries, green beans, and herbs; Cucumbers trained to a single trellis line; 'Sun Sugar' yellow cherry type tomato growing hydroponically; first harvest yields from hydroponically grown 'Caiman' tomato.  Photos by B. Aly.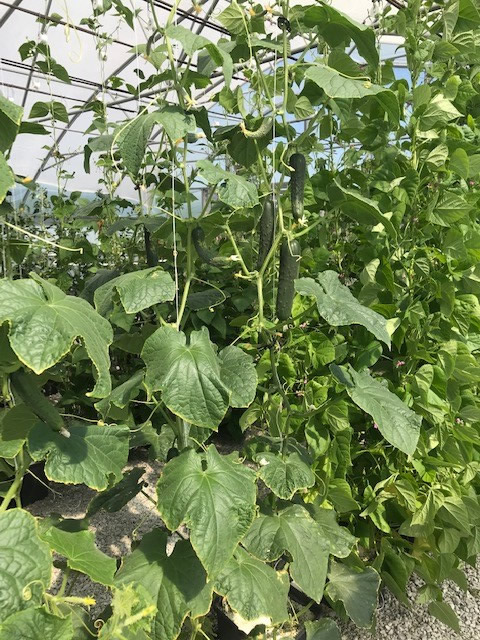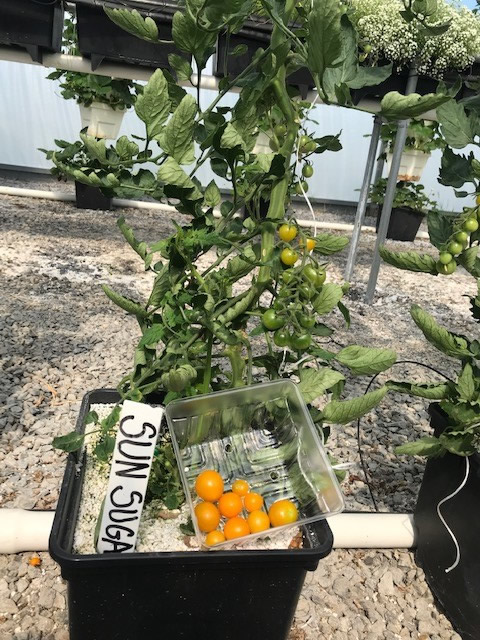 The first pepper harvest of the season was recorded today in the in-ground, raised bed tunnel at DSAC. These plots are all a single variety but planted at three different spacings and also as single and double rows within the bed. Results at the end of the season will be interesting to see what overall spacing yielded the best and which was the easiest to manage as far as plants staying upright. Determinate tomatoes have sized to softballs and have started to get that whitish tint to them, and I suspect we will harvest a few fruit beginning next week. Plant injury and symptoms from Tomato Pith Necrosis are still visible on infected plants that were not removed. While we removed 12 plants from the tunnel initially, we left another 12-14 that were infected but had not gone completely down from the disease. Literature had said that plants could grow out of the disease if not too severe, and we are finding this to be the case in our tunnel this season. Of the 12-14 infected plants remaining, 8-10 have continued to grow and set new fruit. While they don't look healthy, compared to the non-infected plants in the tunnel, they also haven't completely collapsed and the fruit on the plants looks fine. I am confident that these plants won't yield nearly what the other plants will, be at least it won't be a complete loss in those 2 square foot areas if they had been removed.     
I will continue to put in a plug for our Illinois Extension Local Foods & Small Farms YouTube channel, Illinois LocalFoods  Video content is continuing to be added to the channel weekly, with content being organized into playlists based on subject matter or specific vlog locations, including Local Food Happenings at DSAC ,  The Urban Ag Connect Vlog Series and the Beginning Food Production Resources, just to name a few.
Bronwyn Aly (618-382-2662; baly@illinois.edu)
---
Modified Growing Degree Days for Insect Development (Base 50⁰ F, January 1 – June 15)

Station Location

Actual Total

Historical Average 
 (11 year)

One- Week Projection

Two-Week Projection

Freeport

715

721

868

1025

St. Charles

754

682

899

1048

DeKalb

753

780

909

1069

Stelle

804

856

968

1135

Peoria

894

899

1056

1225

Monmouth

886

850

1043

1202

Champaign

933

930

1101

1274

Springfield

1017

1018

1191

1371

Perry

991

957

1151

1316

Brownstown

1042

1107

1219

1401

Olney

1077

1083

1251

1431

Belleville

1214

1141

1383

1563

Rend Lake

1175

1236

1358

1547

Carbondale

1250

1177

1421

1597

Dixon Springs

1207

1257

1381

1560
Insect development is temperature dependent. We can use degree days to help predict insect emergence and activity. Degree day accumulations calculated using the Pest Degree-Day Calculator
Kelly Estes, State Survey Coordinator, Illinois Cooperative Agricultural Pest Survey (217-333-1005; kcook8@illinois.edu)
Holes In Cole Crops? Probably Flea Beetles
Photo: UMN-Ext
The flea beetle is a black insect that is tiny (1/16 to 1/8"). It overwinters as adult in leaf litter, hedgerows and wooded areas. They emerge in early spring and infest cole crops (kale, arugula, cauliflower, cabbage, broccoli, radish, mustards, collard, kohlrabi), eggplants, beans, pepper, tomato, spinach, turnips and sweet corn.
Adult flea beetles eat tiny, pea-sized holes in host plants; the holes enlarge and the leaves grow and expand. On sweet corn, corn flea beetle transmits Stewart's wilt disease (some sweet corn varieties are resistant).
Management
Flea beetles are active right now in northern Illinois. On cole crops, seedlings and transplants are the most critical stages for flea beetle control. Useful tips:
Keep the pests out

control weeds around garden – limits food sources for the beetles
remove old crop debris – no protection of beetles in winter
plant later than sooner – plants grow faster in warmer weather
use row covers early in growth of plants
plant a trap crop like radish, turnip, or mustard – spray with a pesticide once the beetles are actively feeding on crop

Pesticides available

non-chemical (organic) biopesticides:

pyrethrins
permethrin (organic)
spinosad (organic)
synthetic (chemical) pesticides

cyfluthrin
lambda cyhalothrin
carbaryl                                                  
malathion
CAUTION:  Always follow the pesticide label directions.
Flea damage on kale. Photo. J. Theuri
On another note, Kelly Estes (Agricultural Pest Survey Coordinator, University of Illinois) reported that warmer winter weather conditions (December to January) favor survivability of the corn flea beetle, which transmits Stewart's wilt disease in sweet corn. For more information see full article in Illinois Specialty Growers News 2020, page 22, here https://www.specialtygrowers.org/publications
James Theuri (815-933-8337; jtheu50@illinois.edu)
---
https://www.tonycooke.org/holiday-resources/fathers-day/  For all the dads out there, we wouldn't be who we are today without you!
The Top 10 Things You'll Never Hear a Dad Say:
10. "Well, how 'bout that? I'm lost! Looks like we'll have to stop and ask for directions."

9. "You know Pumpkin, now that you're thirteen, you'll be ready for un-chaperoned car dates. Won't that be fun?"

8. "I noticed that all your friends have a certain hostile attitude. I like that."

7. "Here's a credit card and the keys to my new car. Go crazy!!!"

6. "What do you mean you wanna play football? Figure skating is not good enough for you, son?"

5. "Your Mother and I are going away for the weekend. You might want to consider throwing a party."

4. "Well, I don't know what's wrong with your car. Probably one of those doo-hickey thingies—ya know—that makes it run or something. Just have it towed to a mechanic and pay whatever he asks."

3. "No son of mine is going to live under this roof without an earring. Now quit your belly-aching and let's go to the mall."

2. "Whaddya wanna go and get a job for? I make plenty of money for you to spend."
And the number one thing you'll never hear a dad say:

1. "What do I want for Father's Day? Aahh—don't worry about that. It's no big deal." (actually, they might say this, but they don't mean it).
---

University of Illinois Extension Specialists in Fruit and Vegetable Production & Pest Management
Extension Educators – Local Food Systems and Small Farms

Bronwyn Aly, Gallatin, Hamilton, Hardin, Pope, Saline, and White counties

618-382-2662

Katie Bell, Franklin, Jackson, Perry, Randolph, & Williamson counties

618-687-1727

Laurie George, Bond, Clinton, Jefferson, Marion, & Washington counties

618-548-1446

Zachary Grant, Cook County

708-679-6889

Doug Gucker, DeWitt, Macon, and Piatt counties

217-877-6042

Erin Harper, Champaign, Ford, Iroquois, and Vermillion counties

217-333-7672

Grant McCarty, Jo Daviess, Stephenson, and Winnebago counties

815-235-4125

Katie Parker, Adams, Brown, Hancock, Pike and Schuyler counties

217-223-8380

Kathryn Pereira, Cook County

773-233-2900

James Theuri, Grundy, Kankakee, and Will counties

815-933-8337

Extension Educators – Horticulture

Chris Enroth, Henderson, Knox, McDonough, and Warren counties

309-837-3939

Richard Hentschel, DuPage, Kane, and Kendall counties

630-584-6166

Andrew Holsinger, Christian, Jersey, Macoupin, & Montgomery counties

217-532-3941

Extension Educators - Commercial Agriculture

Elizabeth Wahle, Fruit & Vegetable Production

618-344-4230

Nathan Johanning, Madison, Monroe & St. Clair counties

618-939-3434

Campus-based  Extension Specialists

Mohammad Babadoost, Plant Pathology

217-333-1523