Cytospora chrysosperma and its perfect state Valsa sordida is generally considered to be a saprophyte or weak parasite living on dead bark. It can assume a parasitic role and quickly attack trees that have been weakened by stresses such as crowding, drought, extreme heat or cold, nutrient imbalance, transplant shock, severe pruning, fire, sunscald injury, frost, insect or mechanical injury, herbicide damage, root-feeding nematodes, insect damage, or infection by other pathogenic fungi. This opportunistic fungus often inhabits apparently healthy bark and buds and is thus in position to infect weakened tissue quickly and massively. A canker frequently begins at a wound, branch stub, or leaf scar.
Shortly after the bark dies two types of black, pinhead-sized, spore-producing bodies form in stromata in the outer diseased bark (Figure 2 and 3); the pycnidia of the asexual phase (Cytospora chrysospermai) and the perithecia of the sexual state (Valsa sordida) (Figure 4). The pycnidia are much more abundant than the perithecia. The stromata are shaped like short cones with flattened, gray-brown to black tips that break through the bark surface as small dark pimples or pustules (Figure 3). The pycnidia, under warm moist conditions, absorb water and swell, exuding long, thin, coiled, thread-like tendrils of microscopic spores, called spore horns. The yellowish to reddish brown spore horns consist of masses of one-celled spores (conidia) in a gelatinous matrix. As these structures dry, the conidia are released and are carried by dripping and splashing rain, wind, insects, birds, and tree workers' hands, clothing, and pruning tools to other trees.
The perithecia of Valsa sordida form in the same stromata with pycnidia or in new stromata beginning in autumn and winter after the formation of pycnidia. The perithecia are black, spherical, and several are arranged in a ring in the lower, outer part of the stroma. Their long necks converge to form a circle of openings in a disc which protrudes through the cracked bark (Figure 4a and b). When the stromata are wet for a prolonged period the asci (Figure 4c), each containing 8 ascospores, may exude from the perithecium much like the release of conidia. The colorless, one-celled ascospores (Figure 4d) may also be forcibly expelled into the air when the stromata in dry bark become saturated with water.
The Cytospora (Valsa) fungus overwinters as mycelia and conidia or ascospores in diseased bark and wood. Infection usually occurs through bark wounds typically resulting from mechanical damage. The fungus grows through the bark cells and the outer few rings of wood. Cankers usually develop in the fall, winter, and early spring and enlarge slowly at low temperatures (36 to 50 F or 2 to 10 C) and up to 40 millimeters per day at higher temperatures (68 to 86 F or 20 to 30 C). Bark susceptibility may be induced by heating to approximately 104 F (40 C) which is not uncommon on hot summer days. Rapid temperature shifts in the fall and spring between warm and subfreezing also predispose the bark to infection.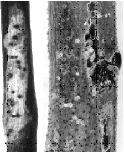 Figure 3. Cytospora canker of willow. Left, canker on a dwarf arctic willow stem following transplant shock (courtesy Dr. D.F. Schoeneweiss); right, cankers on an older weeping willow 9courtesy Dr. L.E. Dickens). Note the fruiting bodies of the Cytospora fungus which appear as pustules in the diseased bark.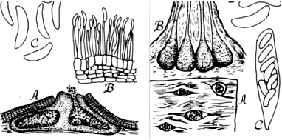 Figure 4. Cytospora chrysosperma (left) as it would be seen under a high-power microscope. A, Section through a pycnidial stroma showing two chambers and a pore releasing spores (conidia) from the right chamber; B, section of the pycnidial wall showing conidiophores bearing conidia at their tips; C, six colorless, one-celled conidia. Valsa sordida (right). A. Top view of four perithecial stromata erupting through the bark; B, section through a stroma showing four perithecia with the tips of their necks protruding from the stroma; C, an ascus with 8 ascospores; D, two ascospores. (Drawing by Lenore Gray).